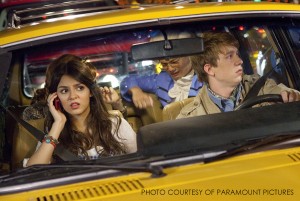 Victoria Justice is a star in the making.
First Zoey 101, then Victorious, now the lead in Paramount's Fun Size— Justice, 19, is already, by the social standard, a celebrity. Her status as a Nickelodeon television star has thrust her not only into the Hollywood spotlight, but also into the hearts of teenage boys and girls nationwide.
Growing up, I was one of those kids; tuning in to Zoey 101, I came to know Victoria the character all too well, but always wondered about Victoria the person, the girl behind the screen.
Thanks to Mr. Broer, my advisor, as well as Justice's agent and a little good luck, on Tuesday, Sept. 25, I finally got the chance to speak on the phone with one of my own childhood idols.
The conference call began at roughly 5:00 p.m. and lasted just under a half hour. With some twenty high schools and universities on the line, each school's representative was only able to ask one question.
When my turn finally came, I'll admit, I was nervous; she is Victoria Justice after all. Quick introductions aside, I got straight to the point, asking if the lead role in Fun Size, Justice's first in a feature film, came with any unexpected challenges. It wasn't the most basic of questions, but, because she's a celebrity, I expected an all-star, perfectly scripted, flawless answer.
It never came; I soon realized that, although she may be a famous actress, Victoria was still a normal teenage girl.
While her answer wasn't unintelligent or confusing– she focused on the difficulties of readjusting her entire schedule, so she could film at night– she sounded abnormally… normal. She said "like" a lot. She interrupted her own thoughts. She even paused and admitted to "drawing a blank" at one point.
Why was I so surprised to hear another teenager speak the same way that I do? What did it matter that she was one of Hollywood's rising stars?
It didn't. Talking to Victoria not only gave me my 15 minutes of fame, but it proved how similar people from all walks of life truly are. Justice, although I doubt she intended to, made me realize that the lofty expectations both the media and public place on celebrities are not only misguided, but misleading.
When it all comes down to it, Victoria, acting talents aside, would have no trouble fitting into a college environment because at heart, she is a college student. Her age and roles may place her into a specific stereotype as an actress, but that stereotype cannot accurately define Justice as a person.
Maybe it's human nature to expect certain personalities to match up with certain professions, maybe not. All I know is that I appreciate Victoria being "down to earth" and not letting a pre-described social stereotype of her as a teenage actor influence who she is as a person.
Plus, now I can check "Talk to a celebrity" off my bucket list. Thanks Victoria.
Victoria Justice's new movie, Fun Size, rated PG-13, comes out in theaters October 26.