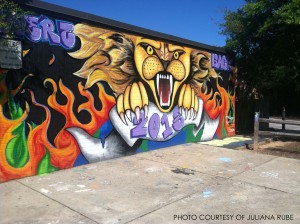 Not even a full week into the upcoming school year and the senior class of 2013 has already begun to leave their legacy at Leesville Road High School. On Friday, Aug. 24, after many long hours spent painting and detailing, the Senior Wall stands completed.
Towards the end of the 2012 school year, Student Council held a competition, as per usual, to determine the design for this year's wall. Two entries were submitted, but it wasn't until mid-August that the winner, Rachel Radulovich, learned of her victory.
Radulovich, senior, said, "The school e-mailed me in the middle of August to let me know that they had picked my design. Once I found out, I got together with a couple of other senior art students and we decided to just go at it."
Come the morning of Monday, August 20, Radulovich and the other contributing artists, including Gabe Romero, senior, arrived outside the school to begin the process.
"Before we could do anything else, we had to cover last year's wall with black paint," said Romero. "From there, we chalked out a rough sketch, painted the base colors, and finished with any extra shading or detailing we wanted to do."
One of the biggest differences between this year and any previous year, according to Grace McLeod, senior and contributing artist, has nothing to do with the actual wall, but instead the sidewalk in front of it.
"Since the tradition of painting the Senior Wall started in 2007, every year, that year's senior class wants to do something bigger and better than the year before, but we decided to start our own tradition. Instead of following in the footsteps of other classes, we wanted to do our own thing so that in the future, people will continue on with the tradition that we start," said McLeod.
With the new school year about to begin, the senior class of 2013 looks to start off with a bang and leave their stamp on LRHS.
See PHOTOS