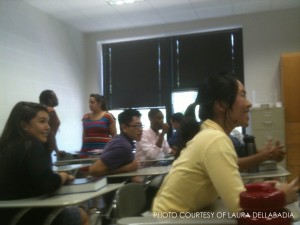 Attendance at Leesville dances has declined from 900 to a low 300 in the past several years. Last year's Winterfest dance was canceled due to the low rate of ticket sales. This year, the Executive Council redefined the meaning of the "Homecoming Dance" in order to save the fall outing.
The council decided to make the dance an informal gathering in the auxiliary gym, taking place after the varsity football game against Millbrook. The casual dance will be held on Friday, Oct. 12 from 9 to 12 p.m. The time was originally 8 to 11 p.m. However, due to fears of the football game ending late, the dance time period extended.
"It's a good change because it's right after the game, and everyone's pumped up. It brings a lot of enthusiasm out to the dance," said Donna Chow, vice president of Executive Council.
Some students feel uncomfortable at formal school events, while others embrace the chance at wearing jeans to a school dance.
"I don't have to buy a dress now, or heels, and all that stuff. I'll go to the game, just to like try it out since its new, and it's my last year," said LaJaria Harrington. Initially wary of the changes, Harrington decided that she will attend. Her only regret was that freshmen students would not be able to gain the experience of attending a semi-formal homecoming dance.
In preparation of homecoming, the Executive Council is constructing decorations in the theme of the Olympics. "We have torches, and everything that ties back into sports," said Chow. The board currently works on making a video to support all of the Oct. Spirit Week.
The Council plans to sell five dollar tickets to the dance during lunch of the Homecoming week.
To show their spirit, students will wear Olympic sport jerseys on Monday. Then on Tuesday, the colors of clothes will be based upon grades. Clothes that represent different countries will be on Wednesday, and on Thursday the clothes worn should be influenced by British culture. As per usual, the day of the Homecoming Game and dance will be a Green Out.
Whether these changes will dramatically increase attendance or not, remains to be seen. However, the Council hopes it will, due to the hours invested in the social to make this homecoming dance happen.