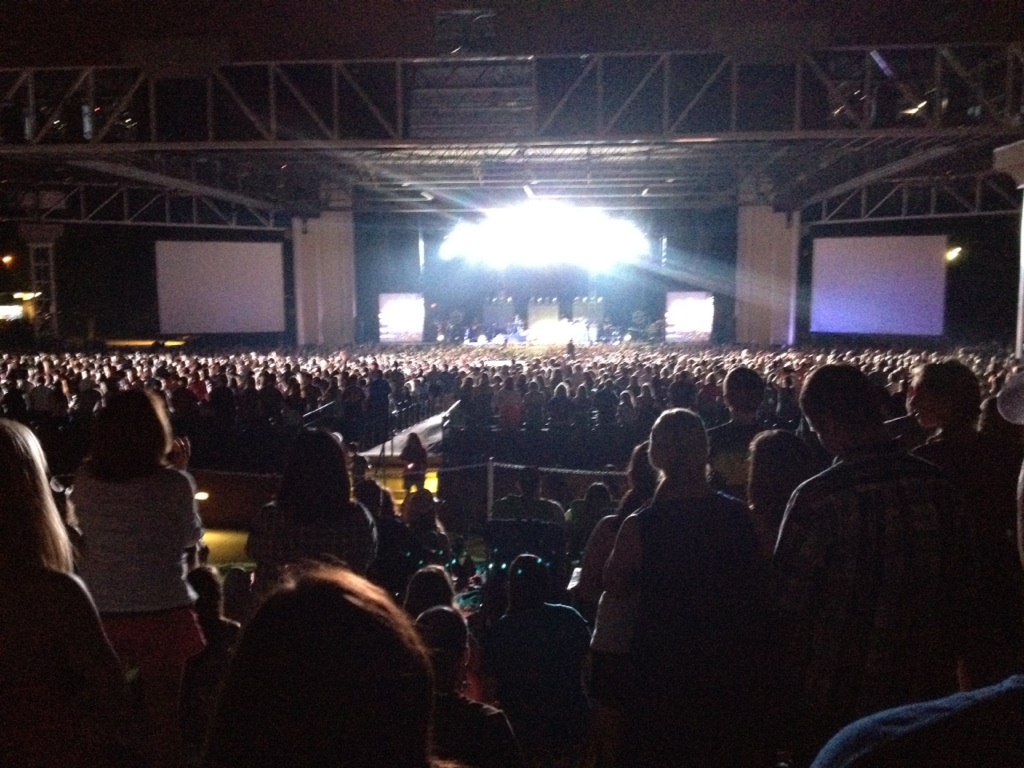 Being a regular attendee of country music concerts at Walnut Creek, I was thrilled when Brad Paisley returned to Raleigh. I expected a similar lineup of songs to last year's because no new singles were released. My parents were offered to upgrade to seats instead of the lawn for only $10 each, as a result of low ticket sales. Due to the fact that I was meeting friends there, I decided to stay in the teenager-friendly lawn section.
Easton Corbin began the show on the main stage with his hits "Roll With It," "A Little More Country Than That" and his current song, "Loving You Is Fun."
The Band Perry then played multiple songs from their first, self-titled album, including "Hip to my Heart," "All Your Life," "If I Die Young" and "You Lie." The three siblings added a twist to their song "Independence," by combining it with Tom Petty's "Free Falling." They also performed a cover of Queen's "Fat Bottomed Girls," which was a definite crowd pleaser.
Brad Paisley started off his electrifying show with his fun song, "Camouflage," that excited every spectator. The screens on stage offset each track, with fitting graphics throughout the show. During "Camouflage," the stage was transformed into a synthetic forest fit for hunters.
The remainder of the 23 song show, included an uncanny number of hits, all of which I knew the words to. His massive lineup included tear-jerking ballads like, "Waitin' on a Woman," "She's Everything" and "Then." Paisley then performed his sullen and powerful duet, "Whiskey Lullaby" with Kimberly Perry of The Band Perry. Despite those slower tempo songs, the entire crowd remained on their feet for the upbeat tunes, "Old Alabama," "Ticks," "Water" and "Mud on the Tires."
While Paisley performed his song "Celebrity," a local celebrity emerged and helped sing the chorus: Scotty McCreery. Needless to say, Walnut Creek erupted at the sight of Raleigh's own country star.
Another unexpected sighting happened when a holograph of Carrie Underwood appeared during "Remind Me." Many concert-goers were completely fooled by this technology and thought Carrie Underwood actually made an appearance.
Because of local noise ordinances, all concerts must end by 11 pm. Luckily for fans, the encore that included "American Saturday Night" and "Alcohol," ended at exactly 11:00.
Although last year's setlist was extremely similar, if not exactly the same as this year's, the show was incredible. Paisley never ceases to entertain his fans all the while leaving subtle reminders that one's love and family are of life's finer things.