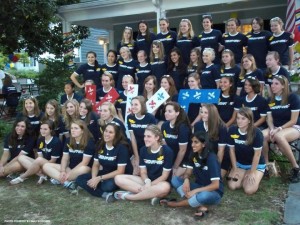 Greek life is either a huge part of your college experience or not. Rushing, which is the process of joining sororities and fraternities, is usually considered an extremely stressful and chaotic process, because college freshmen don't always know what to expect.
Girls attending a large university should expect four rounds that take place over two weeks. Girls at smaller universities should follow the exact same steps, except each sorority has suites instead of houses. Getting started involves signing up to rush with your school's Panhellenic council, a group that encourages and supervises the sororities at each university. They will place you in rushing groups of about 15-20 girls. You will travel with this group to each house.
The first round is called Open House and each rush group will travel to the houses or suites and socialize with the sisters of that sorority. After this preliminary round, you will rank each sorority except three that you are not interested in. Sororities will ask back the girls they are interested in.
The next step in your rushing journey is called "skit night." Sisters of each sorority try to incorporate facts about their chapter's service projects and events through skits. Knowing more about the sororities will help you narrow down your top five chapters.
The third round of rush includes a more in-depth tour of the sorority houses or suites. There's more of an opportunity to meet and connect with the sisters in each sorority. Emily Rodgers, freshman at UNC Chapel Hill, said, "Sisters are told to act indifferent to each girl, so it may not be obvious as to which chapter wants you." Keep this in mind when narrowing down sororities to your top three.
The final night of rush is called preference night. Your stay with each sorority is hours long, so expect deep conversations with your potential sisters. Each house holds 'ceremonies' where current sisters share why they love their sorority. After this night, you will rank your top three chapters in order of preference.
When bid day arrives, all girls who rushed will meet in one place, where you will be given an envelope that includes your bid card. This card tells you which chapter has accepted you to be one of its sisters. After opening your envelope, meet up with the other members of your chapter and celebrate being a pledges.
For boys, rushing a fraternity is an individual task. Boys sign up to rush online with the InterFraternity Council, a central group that oversees the actions of fraternities. Then you can find out about each fraternity's rushing events by looking at their websites. These events include golf trips or casual barbecues. Go to these events with friends, but break away and socialize with as many brothers as possible. "Meeting lots of brothers is important, so you'll stand out when they choose their pledges," said Andrew Marbrey, Freshman at NC State.
Continue going to these events, in hopes that the brothers may ask you to come to the house to hang out which shows that they might want to give you a bid. A brother will hand you a bid at an event or while you are hanging out with them. It is possible to receive multiple bids, so try choose which feels like the best fit. Fraternities also hold ceremonies to say what they love about their chapter. Once everyone has gotten bids, fraternities hold parties for their future brothers.
Hopefully these simple steps will reduce your stress while rushing and help you get into the chapter you want to join.