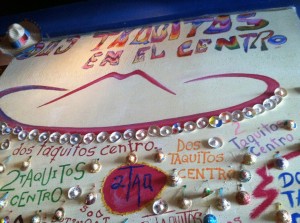 Have you ever wanted to go to a really authentic Mexican restaurant but didn't know where to find one? I did, and my search ended when I found Dos Taquitos Centros, a little Mexican restaurant on 106 South Wilmington Street, downtown.
As soon as I walked in, I saw decorations hanging from the ceiling, abstract art on the walls, antique-looking mementos from people's travels, and writings painted on the wall– all in Spanish, of course. Anyone who can actually read or speak Spanish could definitely entertain themselves translating things around the restaurant.
Now, this isn't your typical Mexican restaurant like Moes or Salsa Fresh–it is much less commercial. The meals seem more authentic– the ingredients are more versatile and the food has many flavors, which is different from your typical restaurant.
When you first enter the restaurant, you are seated at a table and handed a small menu. The odd part is, though, that the menu has about 10 items on it. It would seem like a small selection, but this allows the cook to put more effort and focus into the food they're making.
They serve brunch and dinner on Saturdays and lunch and dinner during the week. Each of these four menus is different for the times of the day.
This restaurant prides itself in using the most fresh ingredients possible. They support local growers by buying fresh, organic items.
Eating "Gorditas" was a new experience for me. On my plate were two corn mesa patties stuffed with queso, grilled chicken, and pico de gallo. It had a really soft texture and I could taste different flavors and spices.
My mother, who often goes to Dos Taquitos on her lunch break, had Dos Tacos Tacos. This was, according to the menu, two grilled flour tortillas stuffed with Chihuaua cheese, pico de gallo, avocado, and a meat. According to my mother, these were "her favorite tacos in all of Raleigh".
Nothing here tasted like it was made of cheese that had been packaged and sitting out all day or as if it had been microwaved. It wasn't put together in front of us by people with clear latex gloves on. This food tasted like someone took the time to make sure it was good quality and appealing.
Along with the great food, the restaurant has an amazing atmosphere. Nothing in the place is dull–there are religious items, souvenirs from trips, letters in Spanish, and more. There's always something to look at.
"This is a family business," explained Angela Salamanca, the owner of the restaurant. "Everyone who works here is incorporated into the restaurant in some way. When people travel, things that they bring back are put in here somewhere. Pictures, drawings, letters, art, and things like that."
Which is part of the reason why the place is so creatively decorated. Take the bathroom, for example–this might be the most exciting part of the restaurant. The door is written on from top to bottom. I, not being able to speak Spanish, was simply amused by the pretty handwriting and nice colors. Someone who spoke Spanish, however, would actually be able to translate this.
Inside the bathroom are brightly colored walls, some of which are also written on with paint. Everything in the bathroom most obviously tells a story– for example, one wall has a picture of a couple and says "love of my life". The employees let you into their life through the items they put around the restaurant.
This is the most unique restaurant I've ever been to, and I highly recommend that people go here. There is never a dull moment and the food is impressive. It is worth taking a trip to downtown Raleigh for this place!