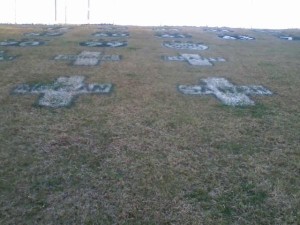 You've probably seen the Sports Medicine students at football games. They are the only students who are down on the field and don't have either cameras or jerseys.
Susan Pridgen teaches Sports Medicine. "This is a cool class because it is hands on; they [students] practice taping and wound management. They also get to attend practices and games and deal with athletes getting injured," said Pridgen.
There are three levels to Leesville's Sports Medicine program, aptly named Sports Med I, II, and III.
Martha Calvert, senior, has taken the first two and is planning to study the third in the spring. "For Sports Med I, we [the students] are taught the basics of an athletic training career. These include the importance of paperwork, ethical practice, and the universal precautions all trainers must take. You can only treat within your qualifications," said Calvert. "Sports Med II is all anatomy, learning all the muscles and bones and the injuries that can happen to them."
"In Sports Med III, we have to travel to medical facilities and volunteer there in order to experience different types of medical professions," said Grant Klute, senior and also a veteran of the first two levels. "We supervise the practices and games to make sure nothing is wrong with the players and inform the coach or the player if there is."
"I try to teach them about the profession of athletic training. They learn CPR, first aid skills, and basic treatments for minor athletic injuries, such as ankle sprains. I expect that they are able to take the knowledge and skills from class and apply them at athletic practices and games when athletes get hurt," said Pridgen.
Calvert, on treating athletes during practices and games, said, "Ms.Pridgen expects us to be professional. No fraternizing with the athletes. We have to handle situations with confidence, and only perform tasks we are trained to do. While Ms.Pridgen is qualified to pop a shoulder joint back in to place, I am not."
Sports Med students' jobs vary between games and practices. At practices, they basically haul water, and wait for athletes to hurt themselves so they have a chance to apply their knowledge. The students tape athletes to prevent injury, or they tape injured athletes to prevent further injury.
During games, however, it becomes a whole new operation. Pridgen's students are out on the football field, supervising to ensure that any injured athlete does not go untreated. They are all assigned different jobs, from treating scrapes to giving water to the players. The football games aren't a just a simulation of real world applications; they are real world applications.
"Sports medecine has given me many memorable experiences," said Calvert. "Last year a player dislocated his finger during practice and Pridgen popped it back into place."