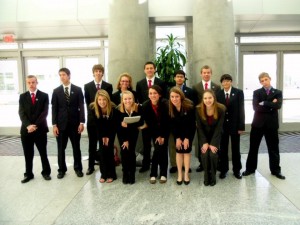 Leesville's  DECA club put on their thinking caps at the District Level Competition held at Raleigh's convention center. The fourteen DECA students left the school by bus at 8:30 a.m. on Wednesday, November 30, and did not return until 5 p.m.
The students were required to dress in their classy business clothes to represent the school professionally.
Students competed in various business and marketing themed competitions. All 14 students in attendance performed exquisitely in competition, sending the entire chapter to the State competition.
"Everyone performed really well, I think we did a good job of representing the Leesville DECA chapter," said Meg Milan, junior and club's historian.
Ryan Carney, Brian Davis, and Meg Milan, juniors, truly shined at the competition, winning themselves medals for highest test scores. All three of these outstanding students had one of the 20 highest scores on a computerized business test.
Six of the members in the attendance were competing in business for the first time. "I was really proud of the new people that came along," said Allison Schiller, senior and DECA co-president. "They were all very stressed, but they pulled through."
Leesville freshmen and first time competitor, Andre Smith, truly proved his business prowess, winning a medal for best role play. He won by successfully posing as a company head, solving business related problems before a judge.
Leesville's DECA chapter will have a chance to prove themselves once again; the State Level Competition takes place in early March.
Katy has been on staff since her sophomore year, starting as a staff writer. With hard work and diligence, she earned a junior editor position and ultimately became Editor-in-Chief her senior year. She will pursue a degree in journalism in college.