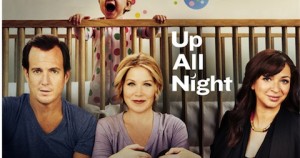 Christina Applegate and Will Arnett star in NBC's new comedy, Up All Night, which aired September 3. The show centers Chris, played by Arnett, and Reagan, played by Applegate.
The show starts as Chris and Reagan are anxiously awaiting the results of a pregnancy test. The test comes back positive, and the two set off on the long, hard road of parent hood.
Reagan eventually goes back to her job which portrays her as a responsible young woman, eager to climb the corporate ladder.
Chris is a stereotypical, immature, young parent. Many of the punchlines are based off of his character flaws and immaturity. After quitting his job at a law firm, Chris' laziness becomes even more apparent.
One of the more entertaining parts of the show is when Chris tries to buy cheese at the grocery store and is unable to find it. This scene displays Chris' ignorance and lack of common knowledge in an amusing light.
The show was introduced clearly; however, the ending left something to be desired. Many shows use a dramatic event or a cliffhanger to lure in audiences for future episodes. Overall the show was very ironic and provided a few chuckles but nothing good enough to draw in the audience.
Up All Night airs Wednesdays at 9:00 p.m.