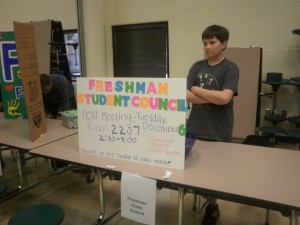 Leesville had a Club Fair November 4 in the Multi-Purpose Room–East Building.  The Fair is an annual event that enables students to choose a club that they are willing to join.
The fair was not very successful at attracting new students. "There was not much of a turnout, and I thought more people would be coming," said Brian Waldron, junior and member of the Rubik Club.
The attendance of the event was also disappointing to other clubs.  Owen Hitchcock, senior and member of political club, said that the attendance was "zero," an opinion shared by Vince Williams, freshman and Freshman Council advocate.
Even though the attendance was less than spectacular, the clubs made up for it by going all out on their decorations and gifts.  Williams manned the Freshman Council booth, which was giving out free candy to anyone who wanted to stop by, regardless of grade level.  Hitchcock and the Political Club went for more of a patriotic feel, and broke out the red, white, and blue bows, stars and stripes, and flags.
Waldron and the Rubik Club had more of a hands-on approach to garner attention, mainly involving a game called "stump the solver," where the unsuspecting person would scramble a cube only to have Waldron solve it in seconds.
Only one person at the fair not running a booth was willing to be interviewed was Alex Risley.  "I'm not very involved with clubs, but the Club Fair does give people a chance to learn about the clubs," said Risley, sophomore.
The Club Fair was a great opportunity for all who could attend, so hopefully everyone who could attempted to go to the club fair, regardless of interest in clubs.
Overcoming obstacles such as poor attendance and apathy, the advocates for the various clubs at the fair tried their hardest to garner interest for their clubs.  Angie Stephenson, English teacher, took her class down to the Club Fair to get them more involved with school.  Stephenson said, "The Club Fair is a good effort to get people interested and gives the students an opportunity to meet sponsors and receive handouts, and it also gives students a chance to see what club they want to join."