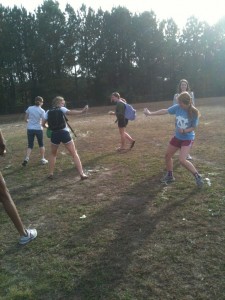 The French Club had an out of the ordinary meeting on Tuesday, November 15. The meeting was centered specifically on the French Revolution.
The meeting commenced with an in-depth speech by Mr. Dinkenor about the French Revolution. The majority of the speech was centered around the French Independence day, known as Bastille Day. He held everyone's attention by relating the noble class to the Kardashian family and showing multiple pictures of bloody, revolutionary scenes.
In order to deeply understand the French Revolution, the club reenacted the event with a silly string fight and a fun game of capture the flag.
Alex Schuler, French club president, said, "Capture the flag symbolized the events of the French Revolution in a fun, modern way."
A few newcomers joined the club, including Kristen Shireman. She said, "I've always been very interested in the French Revolution, and I thought this was a great opportunity to learn more about it through the French Club."
The club plans to have its next meeting, Tuesday, November 29.