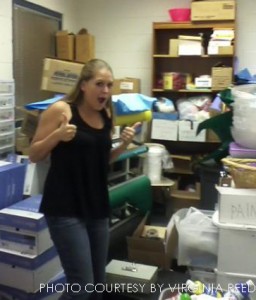 The Leesville Road High School Executive Council is announcing the kick-off of the school-wide fall Food Drive to begin today, Nov. 14.
Sarah Martin, student body president, is looking for dedicated student, faculty and community support.
"[Executive Council] began preparations for the drive about a month and a half ago," said Martin, "but we're still working really hard to generate awareness about the drive and reminding people to bring in canned goods and money."
The main goal of the drive is to collect as much food as possible for the hungry of North Carolina, but Leesville insiders know of the rivalry with Sanderson that is a top priority for the 2011-12 drive.
"Basically ever since Wake County high schools have been hosting food drives, Leesville has come in second place to Sanderson," said Martin. "We'd like to finally beat them."
The Executive Council is employing several initiatives to raise money for the drive. Six local businesses are sponsoring the drive and donated $100. Their names and company logo will appear on a student-designed Food Drive shirt, which will be on sale to all students beginning on November 14 through second period teachers.
For the first time, the council is participating in the school wide chocolate bar sale; the proceeds will go towards the food drive.
Sra. Sollie, advisor to the Executive Council, is excited for this year's drive and expects success. "We are advertising more this year and getting the word out earlier than usual," said Sollie.
Council members filmed a promotional video for the food drive, which will air during Pride Period on November 14.
Like Martin, Sollie agrees that it would be great for Leesville to beat Sanderson at the end of the drive. "Last year Sanderson's final donation was 190,000 pounds and we had 60,000 [pounds.] We have a lot of work to do!" said Sollie.
Specifically, Leesville's goal is to raise $15,000 and collect 5,000 pounds of food. "Please be thankful for what you have and donate what you can," said Sollie. "Watch the video on the 14th and let's beat Sanderson!"
Virginia Reed is a superb writer and an even better friend. She enjoys unhealthy foods and writing sarcastic articles. Virginia is the Online Editor for the 2011-12 school year and was a Managing Editor for the 2010-11 year but has not forgotten her humble beginnings as a staff writer when she was a wee sophomore. Her goals for the future are to get an A in newspaper and to apply to college in a timely fashion.