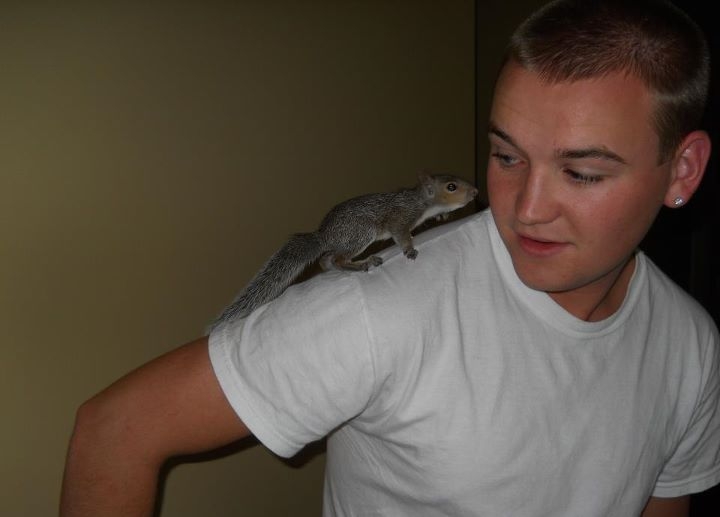 On Thursday, September 29 every Leesville student who drives to school wondered the same thing: Who is that kid with the squirrel, and why is he letting it climb all over him?
Andrew Wise, senior, surprised most everyone when he took a tame squirrel out of his car and carried it casually on his shoulders and arms.
Wise rescued the squirrel from his dog one day after school earlier this year. "I was chasing my dog around the yard when he darted off…I heard a squeaking noise, so I went over to where [the dog] was and found a little squirrel on the ground soaked in my dog's slobber," said Wise.
The squirrel, now named Pharaoh, whose back leg was reportedly bleeding, was then moved inside Wise' house and given food and water while it healed. "To be honest, I just cleaned up some of the blood and wrapped him in a towel and put him in a basket to keep him away from my dogs," said Wise.
Pharaoh is not Wise' first pet squirrel. Around one year ago, a baby squirrel fell from a tree in Wise' back yard and was rescued from his dogs by his mother. "She took it inside and nursed it back to health, and it became our pet." Moses was unfortunately killed by a hawk a few months after being rescued.
"I do not have concerns about rabies," Wise commented when asked about the risk of disease from wild animals. "[Pharaoh] has bitten me before and I don't have rabies, so I guess that's why I don't worry [about rabies]."
"I really didn't have a reason to bring him to school," Wise explained. Understandably, most students are skeptical when they hear that Wise has a squirrel as a pet. "But when they see [Pharaoh], they just say that it's awesome how tame he is."
Cynthia Briest, senior, first saw Wise and Pharaoh after school on Thursday in the student parking lot. "When I first saw [the squirrel] I didn't really know what I was seeing," said Briest. "But I did think that it was really crazy and cool for a teenager to have a pet squirrel."
Virginia Reed is a superb writer and an even better friend. She enjoys unhealthy foods and writing sarcastic articles. Virginia is the Online Editor for the 2011-12 school year and was a Managing Editor for the 2010-11 year but has not forgotten her humble beginnings as a staff writer when she was a wee sophomore. Her goals for the future are to get an A in newspaper and to apply to college in a timely fashion.