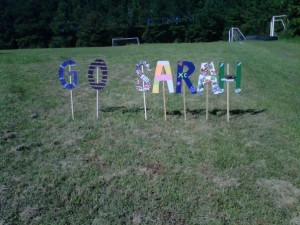 "It's always a sad sight to see the end of cross country," said Ben Tyner, junior. "Five months of training will be ending soon, and every year it seems to go by fast."
On Wednesday, October 5, the men's cross country team hosted the Heritage Huskies in their final home meet of the year. The men's team won 18-43.
Runners took the liberty of celebrating the last race by hanging up personalized posters of each senior throughout the course. With only four seniors, some of the other students decided to get creative.
"My poster wasn't really a poster at all," said Andrew Byrum, senior. "I had this humongous tarp with my name on it. It was pretty crazy."
Not all runners raced, though. The top runners slowed their pace down in order to remain fresh for this weekend's race at Beeson Park in Kernersville, NC.
The team has two more races before the conference meet on October 18. They will be focusing on staying injury-free and in shape over the next month.
"Our entire season comes to an end either at regionals or states," said Mark Mclamb, coach. "These are meets that we prepare every day for. It is essential we give it our best shot in these next few weeks."