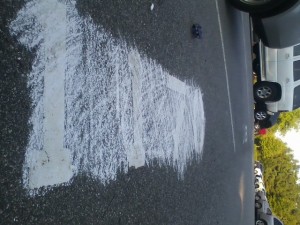 On Thursday Aug. 25, the first day of school, confusion awaited students driving into the parking lot. Seniors had decided to cover all the parking spot numbers with chalk so no one would know whose spot was whose.
"We wanted to set a tradition for all the years to come," said an unnamed chalker. "It was also just hilarious to watch students driving up and down the rows because they didn't know where to go."
Was it as funny to the kids who could not find their spot, though?
Majid Fakhoury, a junior and victim of this merciless prank said, "It ruined my morning but when I look back on it, it was pretty funny."
This prank is nothing new though. Every year, seniors have done something to the parking lot to confuse people. Previous seniors have even used duct tape and paint.
George, security guard, said, "It's annoying, but seniors are going to do things like that. At least they used chalk this year which is not too bad in comparison to previous pranks."
The prank was not simple to pull off either. Said the chalker; "It took two hours, and it was so creepy because it was late at night. It was so tedious, and people kept getting tired and leaving throughout the whole thing. By the end we only had a few people and tiny scraps of chalk left."
By pulling off their shenanigan, seniors have continued the tradition of pranking at Leesville.
Anne Cushman is a staff writer for The Mycenaean and resides in North Carolina. Her hobbies include petting horses, hang-gliding, and soccer. Some of her numerous aspirations are to climb Mount Everest, kayak the Colorado River, and write well. Also, she loves One Direction.