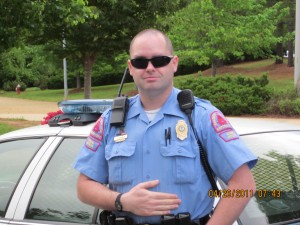 Growing up, Officer John Manson always dreamed of becoming a policeman — catching bad guys and being the hero. Now, after almost nine years on the force, he decided to take his talents to Leesville Road.
From the moment he arrived at Leesville in August 2010, Officer Manson has been hard at work trying to prevent crime, especially incidents dealing with drugs and theft. Manson said," Every day I deal with something different, but the major problems, the ones that keep arising… Drug use and theft."
Transitioning from high-speed chases to kids skipping class doesn't even compare in terms of excitement, but Manson is still able to see the benefits that can only come with working at a high school.
"For over eight years, I've been living my dream," said Manson. "The rush of a chase, the excitement you get from the lights and the sirens — it's indescribable. Still, being at Leesville is great too. Not only do I get a better schedule and a more convenient lifestyle, but I still get the chance to help people on a daily basis."
When he first set foot on campus in August, Officer Manson was unsure as to how successful he could be at LRHS, but he remained determined nonetheless. Now, almost a year into his new job, he has cracked down harder on crime than even he could have imagined.
"I'm used to having a whole team behind me, helping me out, and that's a little different here. I still have the administration and teachers to lend me a hand if I need, but I'm still the only officer [on campus]. If I had another [policeman] or two here with me, we could do much more good than has been done already," said Manson.
However, no matter how tough the job may get, Officer John Manson says he wouldn't trade it for the world. "My best memory from the force was looking into a person's face and seeing honest gratitude and appreciation," said Manson. "When I see that sincerity in a kid… I know that there is nothing else I would rather do with my life."