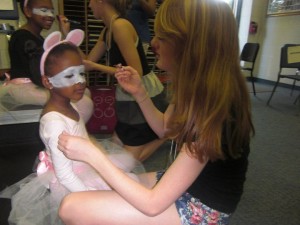 Last Thursday, April 28, Friday, April 29 and Saturday, April 30, Leesville's theatre department put on the much anticipated musical, Cinderella. The school's technical department spent weeks preparing excellent displays of lights, sound and set pieces. Equally talented actors also spend long hours rehearsing. However, one new aspect was brought into this spring's production of Cinderella: children.
Six elementary school children acted in the Cinderella production. The children belonged to our own Leesville teacher parents. The Dinkenors', Mrs. Wilkerson's and Mrs. Arwood's children played the parts of the mice, the cat and "young Cinderella."
The children's role in the play was simple. They danced across the stage, easily gaining love and appreciation from the audience.
"I like to be in the play; I think it's fun," said Dayna Wilkerson, a five-year-old mouse. "My favorite part is when I get to lay on the pumpkins because they're comfy, but it's hard to get the mouse makeup out of my eyebrows."
The children were provided with star treatment. They were each assigned their own costume, hair stylist and makeup artist to prepare them for the stage. "Doing makeup for the kids is very fun," said Kim Towns, junior and makeup artist for Cam Dinkenor, age 5. "Cam is a little ladies man; he was always the center of attention backstage."
The selection process for the child actors was simple.
"Mrs. Catania sent out an email to all faculty members with small children inviting them to be in the musical," said Mrs. Wilkerson, mother of Dayna, 5, and Daryn, 9. "My daughter Dayna is a drama queen, so I knew that she would be thrilled to participate. She had a lot of fun and is very upset that the musical is over."
Children acting in Cinderella was just one aspect that made the Leesville show unique. The theatre department is known for always incorporating new ideas and new surprises to keep the shows interesting.
Katy has been on staff since her sophomore year, starting as a staff writer. With hard work and diligence, she earned a junior editor position and ultimately became Editor-in-Chief her senior year. She will pursue a degree in journalism in college.