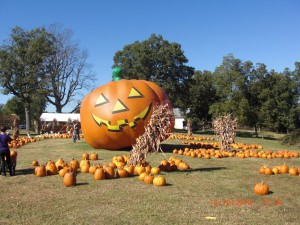 October marks the beginning of a very exciting time of the year: pumpkin hunting. Pumpkin patches spring up seemingly overnight around Raleigh, displaying round, orange vegetables and various gourds on the side of the road, encouraging families to stop by and walk around. People enjoy meandering through the rows of pumpkins, searching for the perfect one to bring home and carve. These activities quickly become cherished traditions, practiced by families of all types.
I recently visited The Pumpkin Patch on Leesville Road between Leesville Town Center and the Citgo gas station. They sell pumpkins of various sizes, from baby fun-sized munchkins to big honkers that require a wagon for transportation. The Pumpkin Patch also sells corn, gourds, bales of hay, mums and small scarecrows. This market for all things autumn also sells Christmas trees in the winter and flowers in the spring.
J.T. Gannon, the woman who runs The Pumpkin Patch, has been leading this small business for five years. With five locations in the Triangle, The Pumpkin Patch is a popular hotspot for seasonal decorations.
The pumpkins that Gannon sells grow in Boone, NC, on various farms that combine for a total 10,000 acres. Once harvested, the pumpkins are driven to the Triangle at the beginning of October. The Pumpkin Patch will stay open through the week after Halloween.
Angela Gjelhaug and her six-year-old son, Kason, always pick out pumpkins together. "We get big and little pumpkins and gourds, too," she said, "and we always carve them."
Kason described what he looks for in a pumpkin. He likes them "big, tall and fat." His favorite part of the pumpkin search, he said, is all the different sizes of pumpkins. He likes to carve "scary faces."
Another customer of The Pumpkin Patch, Pawel Pirog, had an interesting story to tell. "We moved here from Poland about four years ago," he said while his two young children posed for pictures in front of various pumpkins. "This is our third time celebrating Halloween. There is something similar in Poland, but we are still learning."
The Pirog family is still in the process of creating traditions that are custom in American culture. This is only the third year that they have taken the time to go out and buy pumpkins.
While these traditions are strong and unwavering now, most fade with time. Social lives, physical distance and apathy frequently deteriorate annual holiday rituals from childhood. And while it's sad, it's inevitable and to be expected.
My family's own traditions have wavered a little since my sister and I have grown up. As kids, we would take great time and care to pick the perfect pumpkin, examining the roundness, color, cleanliness, even the stem. We took them home and spent hours selecting an image or scary face to carve, from a silly face when I was seven to an intricate witch's visage at twelve. We used the most pristine carving utensils from a special pumpkin-carving kit, purchased despite my mother's objections.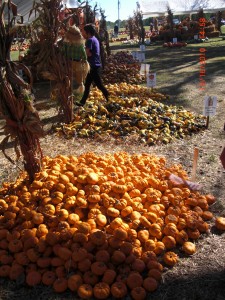 I always started out strong, poking holes through the stencil into the pumpkin to ensure successful carving. Slowly and steadily, my little arms would grow weak, and I would begin to whine about how thick the pumpkin is and how the stupid carving knife wouldn't cut through the stupid pumpkin. My dad would always step in and finish the job while I watched Spongebob. After hollowing it out and sorting through the mushy stuff, we picked out the pumpkin seeds, toasted and salted them and ate them for dinner. Good times, Mom and Dad.
Nowadays, my sister and I have to nag our parents to take us pumpkin picking. When we finally go, we don't take nearly as much time and concern in the selection process. The motivation for carving went out the window; now they just sit on our porch in a cluster, boring and whole.
So traditions change. Pumpkins and their significance may diminish as we grow older, but they always remind us of the fun we had welcoming a new season and celebrating the upcoming holiday season.