While sitting in front of a full classroom of students on Friday, April 10, 2010, French foreign exchange student Melissa Bellamy was a study in poise as she answered countless variety of questions about herself and her country.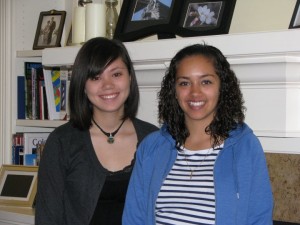 In fact, even after spending thirty minutes per class period being interviewed, Bellamy admitted to enjoying the Q & A sessions.
"I like to speak about myself because then I can talk about France, which I love."
The seventeen-year-old French native is a two-year veteran of the exchange program Terra Lingua ("World of Languages") USA, an organization that is self-described "not-for profit" international activities coordinator.  
Although just over a decade old, Terra Lingua is already partnered with dozens of countries, including Belgium, China, Germany, Nepal, and Spain.
Similarly, Bellamy is a bit of a world traveler herself.  Outside of the exchange program, Bellamy has already traveled to Spain, Italy, Egypt, Guadalupe, Greece, and Switzerland. 
Nonetheless, Bellamy's visits to North Carolina have been both her only experience with Terra Lingua and her only firsthand exposure to the United States.  
Fortunately, with four years and seven years worth of Spanish and English classes, respectively, under her belt, Bellamy was more than ready to tackle the language barrier. 
"I think she speaks better English than we [French students] speak French," said Erica Spears, Bellamy's host student. "[But] if we really can't understand each other, than we just pull out a French-English dictionary."
As Bellamy's host family, the Spears' family was responsible for her well-being and, even more so, for her exposure to American culture. 
According to Dr. Frederic Fladenmuller, the Terra Lingua coordinator for North Carolina, such integration is at the main purpose of Terra Lingua.
"For the exchange students such homestay creates an instant immersion into the American culture and lifestyle, which is at the core of their foreign language education," said Dr. Fladenmuller, via e-mail. 
"There is much of a reciprocity taking place by the mere fact that their American counterpart in turn becomes exposed to a new culture and is opened to a new cultural and linguistic horizon."
Hopefully, many Leesville students can attest to Fladenmuller's evaluation since Bellamy is hardly the first (nor the last) exchange student to have walked these halls.
"The program is usually takes place in the summer, for family stays," Madame Zimmerman. "We do have a lot of year-round exchange students.  In fact, about half of them are probably in this [the main] building right now."
Moreover, Terra Lingua is already preparing for another cycle of Spanish and French exchange students expected to arrive here in June. 
If interested, students are free to see Madame Zimmerman for a flyer about becoming a host student in the program.
Yet, while Terra Lingua is an exchange program, it does not provide for host students who want to visit the country of their guest—that is between the students, much the same way that the actual experience is the students' own.