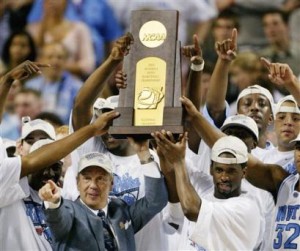 The University of North Carolina's field hockey team defeated Maryland 3-2 on November 22 to win the national championship, their second in three years.
While this statistic may only seem important to a die-hard field hockey fan, it is worth taking a closer look at the sheer amount of athletic prowess that UNC has.
North Carolina is a national championship contender in virtually every sport they compete in, including men's and women's basketball, soccer, and field hockey to name a few.
UNC is currently defending its men's basketball championship, a sport which the Tar Heels have dominated since the arrival of Coach Roy Williams.
While winning two national championships in five years would be enough for most schools, UNC is aspiring for a similar goal this season, with the young squad currently at 5-1.
Their victory is not contained only to the men's side of the spectrum. The Lady Tar Heels are ranked in the top 5 nationally, and have held that position for several years straight.
North Carolina's success is not limited to the court either. Every single college analyst considers the UNC Women's Soccer Team as a dynasty that will not be going away any time soon.
This proclaimed dynasty has won 20 national championships since 1981, a number unrivaled in any other sporting event.
The men's basketball team continuously makes deep tournament runs, and their baseball team has made it to the college world series for 4 consecutive years.
Finally, despite a recent stumble to rival NC State, the North Carolina football program completed a drastic turnaround, finishing their regular season at 8-4, and are preparing for an upcoming bowl game this December.
According to an official study, Carolina is the tenth ranked athletic program in the country, 38 places above the nearest in state rival, Duke University.
How has North Carolina come across so much unheralded athletic success in so many areas, one might ask?
The University of North Carolina is the oldest university in America and has been competing in athletic events since the 1800's.
This long existence has clearly given Carolina a competitive edge in recruiting, given their legacy and long-standing tradition.
In addition to their athletic success, North Carolina also boasts an 83% graduation rate, just 7 percent lower than Cornell University, one of the highest in the United States, and 15 percent higher than rival NC State's graduation rate.
Though Carolina experiences many ups and downs, it is rare, if not impossible that all of their programs are down at the same time, giving them a stronger fan base.
While it may seem farfetched, the fan base is an added "sixth man" of sorts, making it much tougher to leave Chapel Hill with a win, citing this as another reason UNC has experienced so much continuous success.
So through the heartbreak of losing and joys of winning, UNC fans can surely agree that they have an unrivaled tradition with more success than most other schools can come even close to matching.
Will Bennett is a remarkable staff writer who was recruited from his early days. In fact, before Bennett could even speak, the Mycenaean took serious interest in him. While many consider this practice to be unethical, the Leesville editors disagree. Alex Stewart claims that his contributions to the staff have been "Pullitzer Prize" worthy.
In addition to his writing, Bennett enjoys animals, Freshberry Frozen Yogurt, Hip-hop music, and long walks on the beach. He can often be found on his seaside estate composing original music, writing moving poetry, and balling with old basketball greats like Larry Bird and Michael Jordan.