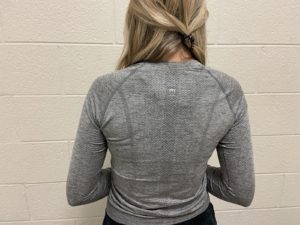 The long sleeve swiftly tech top is a classic favorite. It offers a slim, sleek look on girls' bodies. This top is perfect in winter paired with anything from sweatpants to leggings, or even in summer with shorts or a skirt because it is made of a non-sweat lightweight material.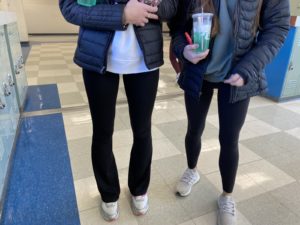 You can't go wrong with any kind of Lululemon Align™ leggings (right) or the Flared yoga pants, especially when it comes to the black pants shown above. They can be worn with any kind of top on any kind of day. If you meet someone who owns any kind of Lululemon apparel, chances are black leggings are part of the collection.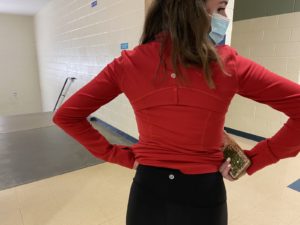 The "Define Jacket" has always been a loved piece from Lululemon but has been extra popular recently because of its tight fit and TikTok "BBL" trend effect it provides. Many students can be seen wearing this jacket in various colors at school. It includes thumbholes and cuffs to keep the sleeves down and add to the slim fit. It also includes pockets to secure any little items in need of on-the-go storage. 
We can't forget Lululemons boy's apparel. The 6-inch 'Surge Lined Shorts' ' stretchy and sweat-wicking fabric creates a comfortable fit for sports, running, or everyday casual wear at school or home. The 6-inch cut is perfect — not too long and not too short. (Photo courtesy of Maddy Winick)