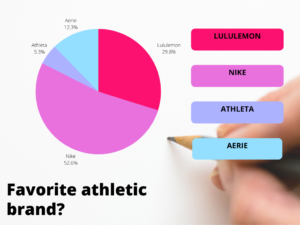 Above, students at Leesville chose between multiple well-known athletic brands. Other brands students claimed to enjoy more than these were Gymshark, Adidas, and New Balance. (Photo courtesy of Maddy Winick) 
Athleisure has taken over the fashion world rapidly in just a few years. People wear athletic clothing not only to exercise but also stylish everyday casual clothing. Everyone seems to be embracing the comfort and style the athletic wear provides. 
Lululemon is not the only athletic apparel brand out there, but it is for sure one of the most popular. 
Multiple alternative athletic brands exist for individuals who are either not all for the high prices, or just overall favor other companies' clothes more. When it comes to which company is necessarily "better" depends on your preference, budget, and what the clothes are being worn for.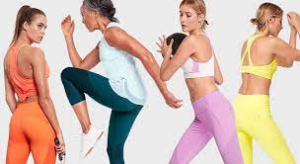 Athleta as an alternative to Lululemon may lead to confusion, as some think the two are the same company – they are not. So what's the difference?
Athleta is a brand owned by Gap Inc., while Lululemon is an independent, publicly-traded company. Athleta makes clothes exclusively for women, while Lululemon has lines created for both men and women. 
Lululemons apparel is designed particularly for indoor activities and athleisure. Athleta designs lead more towards outdoor activities and streetwear. Yet, both are worn as everyday casual clothing.
Overall, if you are looking for designs most similar to Lululemon but want to avoid the high price tags, Athleta is the place to shop. Clothing like leggings, for example, range around $80-90. You will find Lululemons leggings to be around $98-$158. This is just one example – when it comes to shorts, shirts, skirts, and more the price ratio between the two companies holds.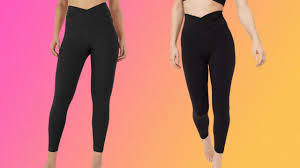 Aerie (American Eagle lingerie), is a sub-brand owned by American Eagle Outfitters. They specialize in a wide variety of undergarments, loungewear, accessories, and sleepwear. Part of the apparel they carry is leggings, and therefore this brand is considered an "alternative" to Lululemon.
When it comes to leggings specifically, Aerie is a great option because you can buy almost three for the price of one Lululemon pair. Prices are incredibly cheaper, for not only a similar material but some may argue a comfier fit.
Both articles of clothing from both companies are similar when it comes to material. Their aligned leggings both contain 81%-88% nylon, the material that creates the comfy stretchy feeling. They are fairly similar in this way. Again, which brand is better depends on your price range and preference. 
Founded in 2012, Gymshark is a fairly new British fitness apparel company that specializes in workout clothes for both men and women. 
Their comfortable, seamless athletic clothing is extremely popular for the support and style it offers when customers work out.
They carry apparel like shorts, leggings, loungewear, crop tops, and many more. Because Gymshark is a workout brand, a great majority of the clothing is in fact sweat-proof (similar to Lululemon) which makes exercising very comfortable as well as efficient. 
When it comes to pricing, Gymshark apparel (such as their leggings) is more than half of Lululemons. Other clothing like their long sleeve tops cost around the same.
The company does not have any physical retail stores, requiring customers to purchase from their website.
The largest athletic apparel company in the world is definitely an alternative to Lululemon. Nike is known for its men's and women's apparel and even makes clothing for specific sports. They carry every athletic clothing you could think of — shorts, skirts, leggings, sweatshirts, tank tops, etc.
Nikes' leggings are made using intelligent Dri-FIT technology, which ensures total dryness during even the sweatiest of workouts. They are also designed at the waistband to fit the body comfortably. 
Being a high-end sports apparel company, it is generally on the more pricey side, yet still slightly cheaper than Lululemon.
This athletic wear company began in 2013 when co-founders Adam Goldenberg and Don Ressler saw a gap in the activewear marketplace; there weren't many affordable options that were still stylish and high-quality. Here came the creation of Fabletics itself.
Fabletics offers affordable, yet high-quality workout clothing for both men and women. The brand is probably the closest you will get to Lululemon when it comes to clothes, for the cheapest price. Unlike a lot of other companies, they have an opportunity for any customer to become a "VIP" and indulge in huge sales and benefits. As of right now, any buyer can sign up for the VIP membership program and not only get $12 bottoms when you buy two but also up to 80% on any item.
Whether this is a good alternative to a company like Lululemon, again, depends on an individual's preference, but the price range part is definitely covered as Fabletics is more likely to be affordable for anyone.