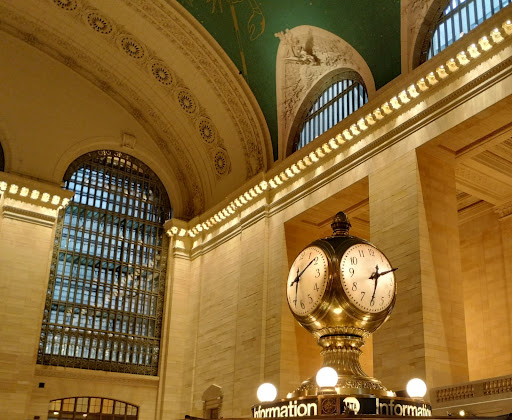 On March 10, over forty chorus and theater students (including myself) went on a four-day trip to New York City.
On the trip, students saw two different plays — one of which was a Broadway performance — and toured many of New York's prominent landmarks.
I was overwhelmed at first simply because of the sheer size and sensory overload of the city. However, I eventually got used to it and enjoyed the absolutely awesome four-day adventure.
We were accompanied by our tour guide, Christina, during the trip, and driven from place to place by our bus driver, Tony.
Over time, because he's an awesome person, Tony became a miniature celebrity within our tour group — earning loud cheers from us whenever he talked to us over the intercom.
Christina had large amounts of knowledge about the city and its history, as well as where to find many of the (weirdly scarce) bathrooms in the city.
As we drove and walked around New York, she told us the history of the places we went and what they meant for us today. She'd been giving tours for at least 20 years and had even given tours inside the Twin Towers before they were destroyed.
There were also multiple parent chaperones accompanying us on the trip, as well as two teachers — Matthew Hurley, the theater teacher, and Tonya Dickens, the chorus teacher.
What We Did
On the days we were in New York, our itinerary was packed. We left our hotels at 9:00am after eating breakfast and didn't get back to the hotel until around ten thirty to eleven on both of our full days there.
Technically, our hotel was in New Jersey, across the Hudson river. However, we spent the majority of our waking hours touring New York.
When we left the hotel, we began our touring activities.
Some of which were:
–Seeing a Broadway and off-Broadway show. The broadway show was & Juliet and the off-broadway show was Little Shop of Horrors
–Having a choreography lesson with the dance captain of & Juliet, Veronica Otim. She taught us the dance sequence that happens when Katy Perry's "Roar" plays in & Juliet.
–Touring Radio City Music Hall, which included meeting a Rockette and seeing the huge stage that's hosted the Grammys and Tonys in the past.
–Seeing the Statue of Liberty (from a distance)
–Visiting the 9/11 Memorial, where our tour guide gave her firsthand account of the event and its aftermath. Since she had lived near the Twin Towers at the time, she actually saw the second plane hit the Twin Towers. She was so close to the disaster, in fact, that when the second plane hit she was thrown backwards by the blast– which damaged her hearing in one ear as a result.
–Walking through Wall Street
–Walking the Highline trail above city streets
–Going up 60 floors to the Top of the Rock Observatory, allowing us to see the New York skyline while it was dark
–Visiting Central Park and Times Square, where we walked around and shopped/ate lunch
And many, many more activities, which would take quite a while to list fully.
Though the trip was a busy few days, that definitely did not stop me from enjoying our activities. I had never been to New York, much less to a Broadway show, so everything we did was incredible for me.
What We Learned
As the trip was school-organized, we learned much about theater and acting from New York. 
I personally enjoyed watching our two plays, and I thought I learned a lot about the theater world from Veronica Otim, the dance captain who gave us a full-on choreography lesson for & Juliet.
Additionally, my dual chorus and theater classmate Emily Sendall, sophomore, also enjoyed the trip. Sendall said, "[The trip] was a really cool way to… experience theater [other than] just seeing shows… and only doing that."
Sendall learned a lot about how being a Broadway dance captain works in the real world during our choreography lesson with the previously mentioned Veronica Otim, & Juliet dance captain.
"[Veronica Otim is] a leader for [the dancers], which I thought was really cool to learn about because I never really knew what a dance captain did before [the trip],"said  Sendall.
Sendall also believed the bonds she formed with her fellow classmates was an important part of the trip.
"I learned a lot about the people I was on that trip with, and since I'm gonna be with them for the next couple of years I think [the trip] was a really cool way to get to know people better and… bond over common interests," said Sendall.
Overall, the trip was a great experience to bond with our classmates and learn more about theater and the culture surrounding it.
Hi, I'm Blase. I like playing video games and running in my free time, and I have two cats.