In 2015, roughly four years after teaching middle school students, Kevin Bacon began his career as a teacher at Leesville Road High School. He has made an influence on his students throughout his eleven years of teaching.
Bacon primarily teaches two subjects, American History and African American History. In addition, he instructs APUSH, a popularly regarded  AP course. Despite the course's rigor, he makes every effort to keep his students engaged in class.
Growing Up
Growing up, Bacon excelled in high school. He liked his classes and found it easy to do well in them.
"High school was easy. I never thought about grades, I just took classes with my friends who happened to be in all the smart classes", but I also made sure to have fun, enrolling in classes like drama and auto tech. I played guitar in metal bands and held a part-time job waiting tables, and was active in my church youth group, playing in their band," he said.
Despite having a hectic high school schedule, he found joy and confidence in his extracurriculars, resulting in a great experience.
"Harvard on the Hill"
Bacon's knowledge carried him far in high school, and he finished at the top of his class. However, due to financial insecurity, he did not consider furthering his study. Instead, after high school, he opted to attend community college. Due to his grades, he earned scholarships on top of financial aid and was able to attend community college for free.
He studied at Stanly Community College, often referred to as "Harvard on the Hill," where he attained an Associates in Science. After graduation, he transferred to the University of North Carolina at Chapel Hill where he intended to major in math.
Life as a Tar Heel
His decision to go to Carolina was simple, it was motivated by a girlfriend. "The decision was really made because I was dating a girl that went there and wanted to stop driving 2 hours both ways to see her every week. We ended up getting married later, so I guess it worked out," he said.
Bacon felt at home in Carolina. However, as his responsibilities increased, this rapidly changed. "I started out at Chapel Hill as a math major, but quickly found the big university quite different from my little 'Harvard on the Hill,' the classes were huge and there was very little direct interaction with your professors in most classes. You had to learn to self-motivate very quickly," he said.
He expected a "small class" with significant professor-student ties when he initially arrived at UNC Chapel Hill, but he was surprised by what he found. Unlike he had envisioned, classes at Chapel Hill  were large, and students were highly focused and intense. However, this was the least of his concerns because he was about to make an even more shocking discovery.
His so-called "Math passion," was overturned by his lack of motivation toward the subject. "I also found out that I wasn't as good at math as I thought and nearly didn't make it through the first year. During the summer, I decided to try some history courses and found out that UNC has a fantastic history department. I fell in love with history, really for the first time. I remember complaining to my grandfather in elementary school that I didn't understand why I had to learn all of these boring facts about a bunch of old dead white guys," he said.
Clearly, UNC wasn't just a school, but also a powerhouse where he fell in love with one of the most revolutionary aspects of his life, History. "At UNC, history came alive, and I was hooked," said Bacon.
Educational  Background
Since his mother, his uncles, and his paternal grandparents were all educators, teaching was a part of Bacon's background. Even as a child growing up in a small community, his family background pushed him to pursue a higher education.  "My grandfather, especially, being a geography professor at Pfeiffer University, made sure that education was a proper priority for me. It was really his influence that led me to higher education," said Bacon.
As a result, Bacon took shelter in the teaching profession, earning a master's degree at UNCC and beginning teaching in 2011. "After finishing school I got hired as a social studies teacher at Wendell Middle School. There was a lot of figuring it out as you go, and I learned a LOT during the four years that I was there. I learned about building relationships and various strategies to help engage students. The school structure made teachers rely on their teammates heavily, so you were very much sink or swim," said Bacon.
Due to this rigid teaching structure, in 2015, after teaching for four years, he made the decision to teach here at LRHS.
Teaching High Schoolers
While it was a strange experience at first, Bacon enjoys the relationships he has established over the years.
"Though there is always turnover, I have forged close bonds with some staff that I would consider family. I have learned so much from legacy teachers here who have forged the way, and I hope that I'm able to utilize their knowledge effectively to educate my students. I have learned so much from legacy teachers here who have forged the way, and I hope that I'm able to utilize their knowledge effectively to educate my students," he said.
While the LRHS social studies staff is one of the key reasons Bacon enjoys teaching high school students, the biggest reason is the students. He said:  "I have had some amazing individual classes that make me happy to come to work every day and forget that this is my "job". Leesville has some of the best and brightest, and there are many students that I've taught that renew my hope that the future is going to be okay. "
Evidently, his affection for LRHS extends beyond faculty or school facilities. Mr. Bacon values all of his students and strives to see their positive effect on the world.
Future Plans
Mr. Bacon doesn't have any future teaching plans as of now, but he said one thing is certain: "I will always be teaching, always."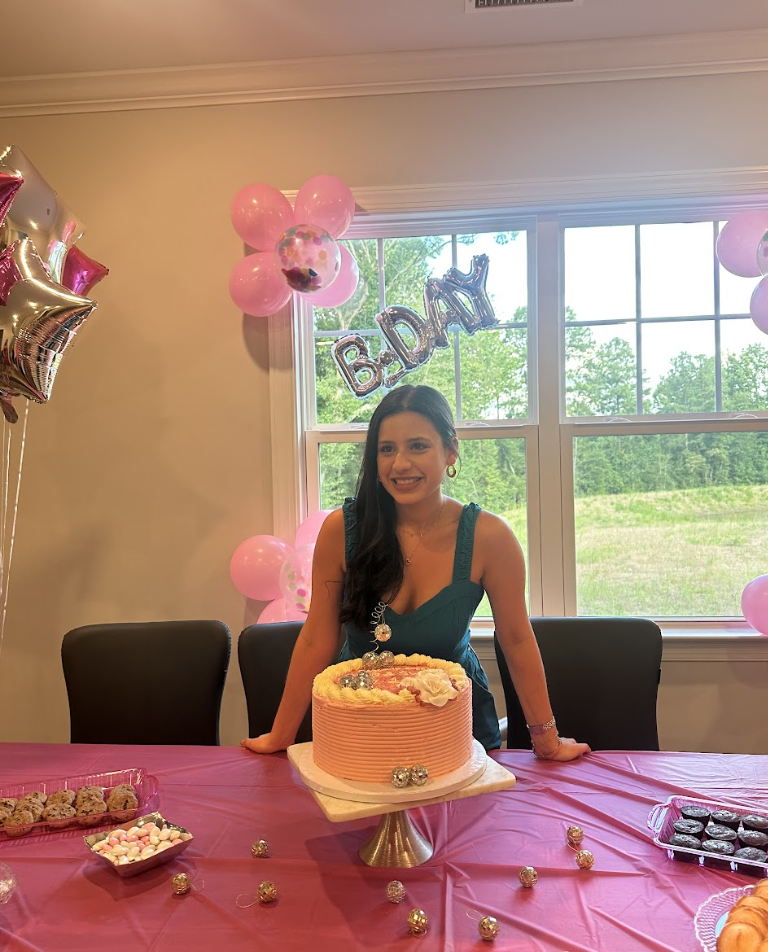 Hi! My name is Elena Faddoul, and I am a junior editor at The Mycenaean. In my free time, I like to read and spend time with family and friends.