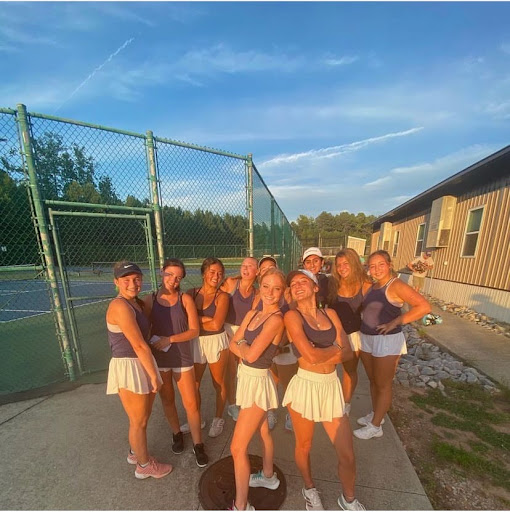 Leesville Road High School Women Tennis Team is 9-4 so far this season.
"I have loved being part of the LRHS JV tennis team. The overall experience has been very positive for me," said Reese Houser, a JV player at LRHS, via text messages.
"We can come back from our losses while also celebrating our wins," said Kylee Saylors, a JV tennis player at LRHS over text messages.
Having strong bonds with teammates is very important which is what the tennis team has according to Houser. "Our bonds are strong. We support each other on both the tennis courts and in the classrooms," said Houser. 
"My favorite thing about the team is that we have Big sisters and Little sisters….a big sister can be someone who has been on varsity for longer or simply another girl who's older," said Ishika Verma, a sophomore and a varsity player at LRHS, over text messages.
Another good thing about being on this tennis team is the friendship that is made. "My favorite thing about the tennis team is having a strong relationship with the girls and being able to really have a great time while working to get better," said Saylors via text messages.
"My personal goal as a player this year is to enjoy myself and not to put too much pressure on myself because there's no room for that in life," said Saylors via text messages.
"The team's goal is definitively to have the longest season as possible and with that our goal is to make it to states," said Verma.
Hey I am Meonna Sloan and I am a sophomore at Leesville Road High School.