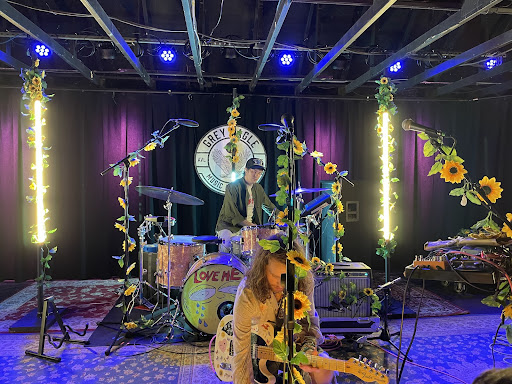 By: Mary Mabry and Brendan Shore
Angela Kasyoka   
Angela Kasyoka, senior, went to a Conan Gray concert on March 11, 2022. 
"I thought the concert was a really fun time — I had never been at an event that size since covid." 
Kasyoka enjoyed hearing Gray live. "I love hearing music live because I feel like the energy of having other people singing along with you… it's just unmatched."  
The concert took place at the Fillmore in Charlotte, which has a 2,000 person capacity.
"I've never been that close up to a stage at a concert and he sounded amazing." 
However, with a venue this size, things can get pretty crowded. "I felt like a sardine, like I could not move at all. That was like the one thing that I did not really enjoy about the concert, but I think it was still worth it in the end."
Ixsy Horton
Ixsy Horton, sophomore, attended a Mitski concert at the Ritz on February 18, 2022. She had a great experience, despite COVID. "You still have to be safe," said Horton, but "It [was] really fun [even] with a mask on. 
"It's just a great thing; so many people come together to see an artist they all really love and the energy [is] great and it's just so different live." 
I asked Horton how it felt being in the pit of a small venue. "It was pretty crowded but it was super enjoyable, [it just] felt really good to be there and be close to the stage." 
In the future, Horton said she'd like to experience being in the pit of a bigger venue.
Devin Broom
On February 6, 2022, Devin Broom, senior, traveled to Charlotte to see Billie Eilish perform at the Spectrum Center. "It was my first concert, so it was very intense… in a good way," said Broom. 
You might be able to imagine the intensity of an arena concert — the spectrum center can fit over 20,000 people.
"It was really nice to be able to see people again, just in general, and to just be able to see an artist that you like enough to [see live]."
When asked how COVID affected his concert experience, Broom said, "having never been to a concert before and then not even having the chance to last year made it feel more special."
Alice Walter
Last year at the beginning of October, Alice Walter, sophomore, saw Thomas Rhett at the Coastal Credit Union Amphitheater. 
"It was a lot of fun…it was my first concert, and I'm an absolutely huge Thomas Rhett fan."
The Coastal Credit Union Amphitheater is outside, which impacted Walter's experience. "It started raining while we were out there, and it was freezing because it was fall [but I] was just happy to be there — I wasn't going to leave just because it started raining."
Overall, Walter is appreciative that live music is starting back up after COVID. "It's good for artists to have that live connection with the people that listen to their music."
"I think that everyone should be able to experience it — it's just a whole different kind of feeling."
Ken Tysiac
Guns N' Roses came to PNC Arena on September 30, 2021, and Ken Tysiac, senior, knew he had to go. "Guns N' Roses was one of my artists that I grew up listening to."
"I play a lot of their songs so seeing how he (Frank Ferrer) interpreted some of them was awesome," said Tysiac, referencing his personal connection to the band through his drumming.
The band, he said, "pulled out a lot of older music that wasn't on their most popular albums, like Appetite for Destruction."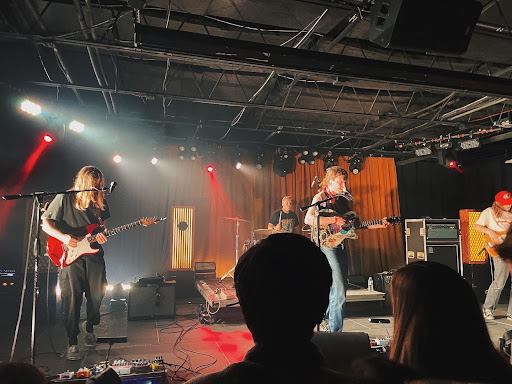 Esther Lee
Esther Lee, senior, traveled to Charlotte to see The Backseat Lovers on February 21, 2022.
With the return of concerts post-Covid, Lee was excited, and the venue helped with that. "It was really, really fun and also I didn't have to worry about Covid either because to get into the venue you needed vaccination records or a negative test."
Another thing Lee appreciated about this concert was the people she met. "I got to meet a ton of people who listen to the same music, and it's kinda all the same genre, so we were all trying to figure out what concerts we're all going to." 
Charles Schuttler
Charles Schuttler, senior, traveled to Washington, DC, where he saw Tyler, The Creator in concert at Capital One Arena. 
He mentioned over text the beginning of the show: "There was so much love for the openers of the show, and I feel like those artists can get lost in the shadow of the main artist, so it was really cool to see such positive feedback."
He also described his favorite part of the concert: "The lights. From my seat I could see pretty much everything."
Hi! My name is Mary. I'm the engagement editor for The Mycenaean. I am a member of the Leesville Symphonic Band and I have 3 dogs!