The Black Student Union (BSU) at Leesville is a service club established in 2017. This fall, the BSU hosted a number of events, including the Welcome Black Block Party and a school-wide blackout for Ahmaud Arbery. 
Very recently, the BSU hosted a toy drive for homeless children. "We're actually giving the toys to the children at Family Promise, a homeless shelter by NC State," said Mariah Kern, Vice President of BSU. Gently used or new toys were donated through December 10.
In the coming months, the Black Student Union is hoping to assemble care bags for the homeless, hold a food drive, and host a huge event for Black History Month. 
All of the ways the BSU is giving back to the community follows a time period when they were not able to do so. During the peak of the pandemic, they were only able to hold meetings over zoom: "There wasn't much we could do within the community because of COVID, so we're trying to change that this year," said Kern. 
Along with creating change in the community, The Black Student Union is a safe space for Black students. Kern wants the Leesville community to know that "there is a space at the school for Black students to feel safe and included and special" even in a "school that is majority white." 
This rings true for members of BSU. Emmanuel Joyner, a senior and member of BSU, described this community as a "family." 
Additionally, the Black Student Union is a place where "everyone is welcome," said Danielle Mankessi, President of BSU. 
For non-Black students at Leesville, BSU can be a place to "be educated on stuff that's happening in the Black community or with Black lives," said Kern. So, if you're looking for a way to support the Black community, the BSU encourages you to join them.
The BSU also wants everyone to know that "Black lives still matter even when it's not a trend,"  said Kern. They bring awareness to this topic as much as they can. For the school-wide blackout they organized, they brought awareness to "the Ahmaud Arbery case because not a lot of people knew about it," said Kern. 
For the Welcome Black Block Party, they collaborated with National Achievers Society to bring people together and have fun — "It started out with a panel where we talked about some of the issues that we face within Leesville and the change that we want to see and then after that we did a few affirmations which I thought were really helpful," said Mankessi.
The BSU would not be the same without their advisors. Senor Florence and Ms.Tabron are the official advisors of the Black Student Union, but Ms.Fletcher also provides her help. These individuals are heavily involved; the BSU "is a safe space with teachers and staff who are willing to help us with our issues," said Mankessi.
Follow @leesvillebsu on Instagram to stay updated!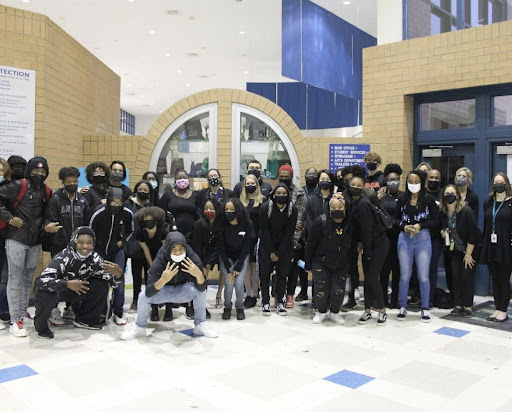 Hi! My name is Mary. I'm the engagement editor for The Mycenaean. I am a member of the Leesville Symphonic Band and I have 3 dogs!