After years of planning and discussion, construction is finally underway to improve the grounds outside of Leesville Road High School (LRHS). With new details developing about the project, how will LRHS adapt to the construction changes going into the 2021-2022 school year?
Project Background
Design planners and contractors from the City of Raleigh partnered with the Leesville Community Task Force to develop a new construction project to take place throughout the 2021-2022 school year. This project is known as the 'Leesville Safe Routes To School Plan'. The NCDOT (North Carolina Department of Transportation) authorized the project this past April with intention to improve the roads and ensure pedestrian safety throughout O'neal Road, Pride Way, and Country Trail.
What's New?
A recently posted PowerPoint presentation on the LRHS website provides specific detail and information regarding the new features the project intends to implement. Some of the new features of the project include:
New crosswalk on O'neal Road

New curb ramp and sidewalk leading into Springdale Neighborhood

Upgraded curb ramps on side of intersection

Sharrows on O'neal Road and Country Trail 

New bike lanes on Country Trail between school and Leesville Road

Nine new high visibility crosswalks

Completes missing gaps in sidewalk network
Each feature of the project also complies with regulatory requirements of the Americans With Disabilities Act (ADA) of 1990, to ensure the safety of not only pedestrians and bike riders, but the disabled as well.
What to Expect
The 'Leesville Safe Routes To School Plan' is expected to take a total of 8 months to complete, stretching from September 2021 to May 2022. Residents of nearby neighborhoods and communities can expect tree protection fences along the borders of neighborhoods, along with noise disturbance from construction. Temporary flagging operations for partial lane closures are to be often, but no full lane closures are expected.
Chad Cantrell, City Project Manager, oversees and manages the 'Leesville Safe Routes To School Plan'. Digging deeper into the details of the project, Cantrell gives first-hand insight about the upcoming expectations regarding construction.
Contractors typically close certain lanes from 9:00 am-4:00 pm to provide a safe environment for construction workers throughout the day. However, Cantrell realized these partial lane closures would not sufficiently handle traffic coming from the school's dismissal at 2:18pm. To comply with the dismissal schedules, new implementations are expected to benefit the flow of traffic. 
"Knowing this (9:00am-4:00pm lane closures) would start to eat into the afternoon release times at Leesville, we were able to pull back the closure time to 2:00 pm," said Cantrell. 
Opening all lanes before dismissal allows students and staff a more efficient and easier exit from the school.
Regarding the LRHS lunch schedule, Cantrell and project coordinators plan to enforce traffic control to direct upperclassmen students leaving campus for lunch. 
"During the lunchtimes, we expect to have traffic control to help coordinate the flow of traffic as students leave for lunch. We originally brought up the A and B lunch times with our contractor early in the stages of project development, with crew stationed at each of the high school exits," said Cantrell.
Moving forward with the 'Leesville Safe Routes To School Plan', Cantrell stresses the importance of student safety and patience going into the 2021-2022 school year. "Without proper protection or equipment, students should obviously not wander into construction zones. Excavators and other heavy equipment can injure someone or worse if not safe", said Cantrell. 
Students should not only stay safe during construction, but also remain patient during the process. Delays and obstacles may occur, hindering the progress of construction. Despite these delays, students should remain patient and compliant with construction guidelines throughout the school year. 
Project Perspective
Kate Fehling, LRHS assistant principal and administrator, speaks on the project's impact on the school. With regards to administrative work hours at the school, Fehling does not anticipate any difficulties or issues getting to and from school during the wee due to the Leesville construction. 
One growing concern circulating the project is the possibility of changing the standard bell schedule to battle with traffic in the morning and during dismissal. However these concerns are merely rumors, as confirmed by Fehling. 
"Our general bell schedule is not editable (start and end times), as that is dictated by WCPSS and approved by the board.  Regarding changes within the day, it is always a thought to be considered," said Fehling via email. 
Instead of altering bell schedules to comply with traffic caused by construction, Fehling believes students should plan beforehand to attend school on time. 
"I think that students are going to need to plan ahead, order for pick-up, or stay closer in order to make it to class on time when construction is in full swing," said Fehling. Although the Wake County Public School's (WCPSS) bell schedules are not easily changed, minor changes throughout the day may occur to combat traffic congestion.
Overall, Fehling agrees the project is beneficial to the school's grounds despite the disturbances that it may cause. "I think that the end result (more walkable spaces around the school) is important and necessary, though the growing pains may be significant," said Fehling.
Key Takeaways
The new road features within 'Leesville Safe Routes To School Plan' is a strong addition to the grounds surrounding LRHS. Expected to be completed in May 2022, the Leesville construction project plans to ensure the safety of pedestrians and improve the flow of traffic throughout the school day.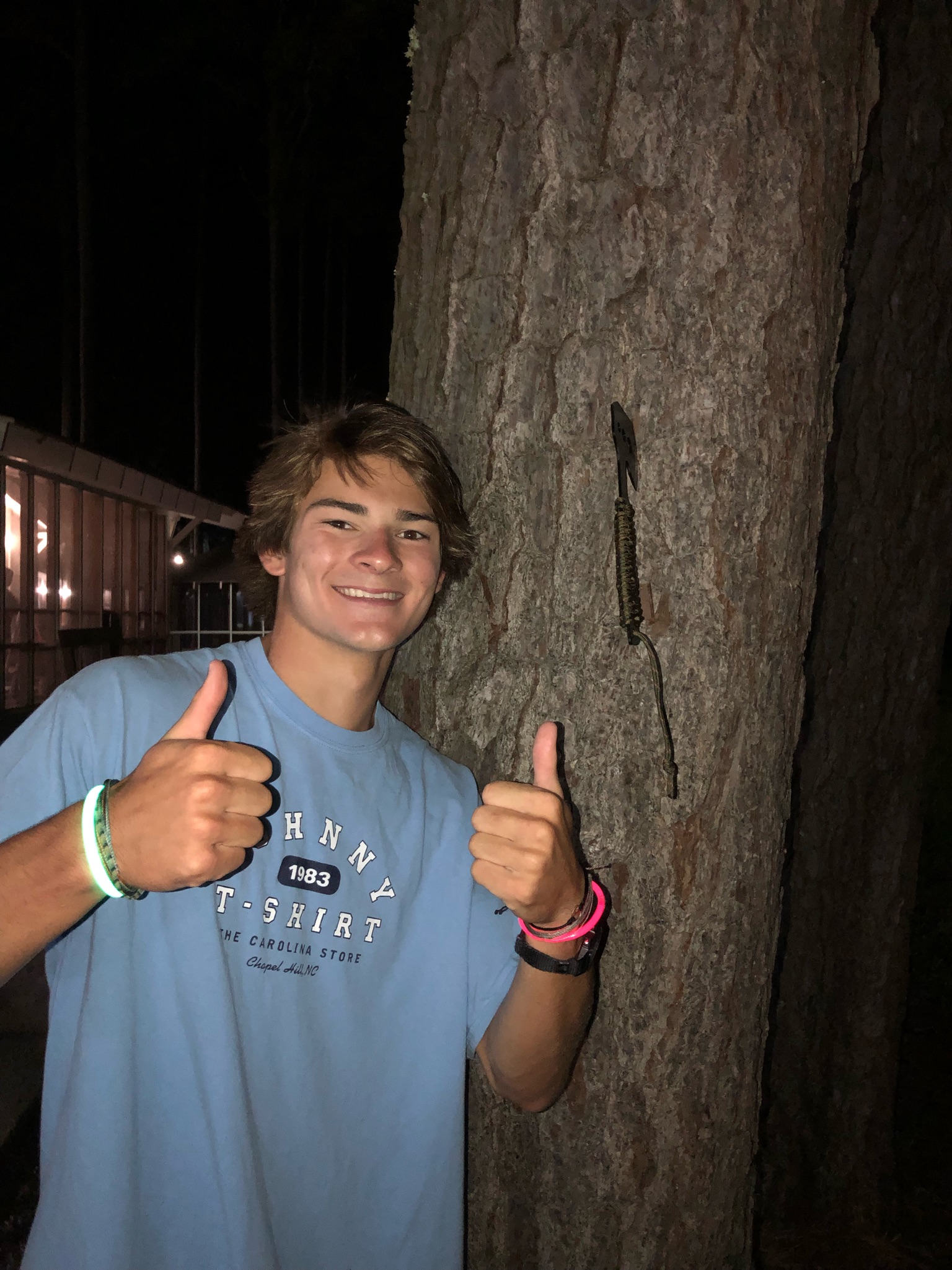 Hi! My name is Chase and I am a staff writer for The Mycenaean. Two fun facts about me are that I enjoy playing guitar with my dad and friends, and I also am a two-time spikeball tournament champion.