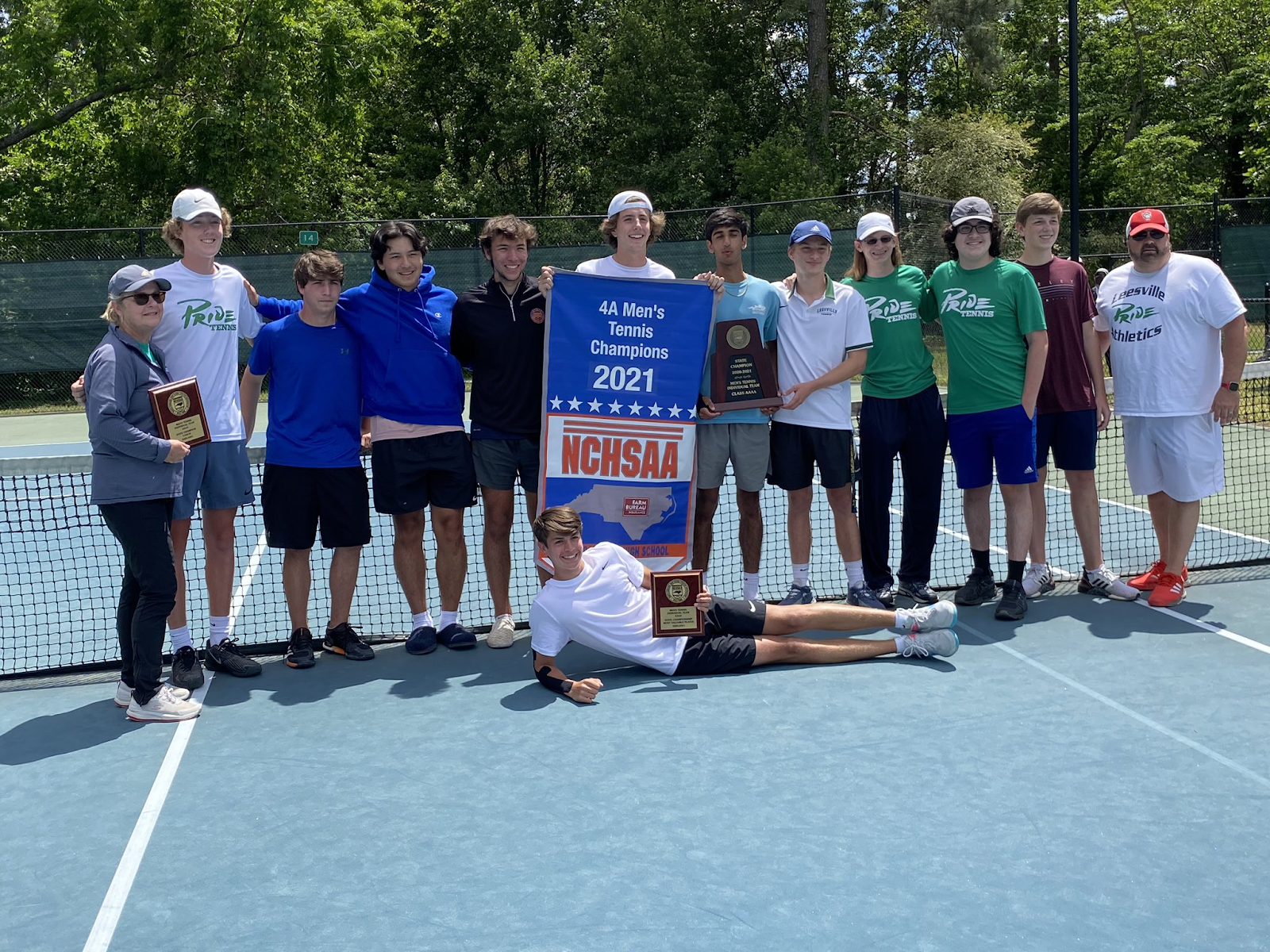 The Varsity Men's Tennis team is having a very successful season: they won regionals, the CAP-7 conference, and recently claimed the title of 4A Men's Tennis State Champions.
This year due to COVID, they had a shortened season, only playing Broughton and Enloe once instead of twice like every other team in the conference. 
Even though they had a shortened season, they still had a great record. Going 7 – 1, with their one loss to Gibbons, although Leesville had already beat them earlier in the season. The win against Gibbons was very notable because they had not beaten Gibbons in several years. 
Unfortunately, there was no men's JV tennis team this year. However, more players were placed on varsity this year than in previous years, totaling a roster of 20. Leesville was considered a "developmental" team this year but still excelled.  
Usually, the team would participate in tournaments after regular season play to win the CAP 7 Conference, Regionals, and States, but this year the in-person team states tournament was canceled due to COVID. So the coach chose individuals to represent the team at "individuals" tournaments. 
Due to the cancellation of team states, playoffs are running on a points system. For the matches the team competed in as a whole, points were given for each match won. The points the team collected from regular season and the CAP-7 tournament were added to the points the individuals collected to determine the title of state champion. 
Winning the conference, regionals, and states, was really exciting for the team. 
"I think our team chemistry is one thing that helped us. One of my favorite memories from the season was playing alongside Rohan in doubles during the state championship and hearing the whole team cheering for us off the court. It definitely motivated us and helped us win," said Matthew Robbins via text, a junior on the team. 
"Tennis doesn't get a lot of recognition so to be able to win big is important. It was great that we could represent Leesville and walk through the halls to see our trophies in the trophy case," said Brayden Hakerem via text, a sophomore on the team. 
"It feels awesome winning states, like all of our hard work has paid off. Hopefully, we can do it again next year," said Matthew. 
Congratulations, on behalf of Leesville's student body and staff, to the Men's Tennis team!
Hey! I'm Viv. I am president of the club Pride Players, as well as a member of NHS, FCA, and SNAC Club. I also play on the Varsity Softball team. You will probably see me around school or at sporting events with my camera!