Sarah Cade and her family stand with smiles for a photo. In her eighth year of teaching, Cade gives insight into her life teaching and coaching at Leesville Road High School, as well as personal feedback on Covid-19 protocol in school. (Photo courtesy of Corey Wodzisz)
Sarah Cade is a former UNC graduate and current teacher and coach for Leesville Road High School. Although the school year started off differently, Cade is always excited to meet with her various history classes and has high hopes for finishing out the school year strong.
Born into a military raised household, Cade moved houses often as a child. Her father was a member of the military and was forced to relocate quite frequently. That is until settling down just before the start of her freshman year of high school. "I grew up in the military, and we would move around a lot because of my father, until we decided to settle down in Charlotte after he got out of the military," said Cade. Attending Hopewell High School as a teenager, Cade and her family lived in their home in the Huntersville suburbs of Charlotte, NC, until her college years.
Fresh out of high school, Cade began attending the University of Chapel Hill for her college career. There, she pursued her undergraduate degree in American history and later worked toward her masters degree in teaching. While in college, she also participated in club soccer and intramurals to stay fit and meet new people.
Many children and young students are unaware of the career possibilities in the future, and many don't know what to do for a living. Except Ms. Cade. As a child she wanted to pursue a career in teaching. "I always knew I wanted to be a teacher, even at a young age", said Cade. After graduating from UNC, Cade searched for teaching opportunities and was offered a position at Leesville.
After an interview with former LRHS principal, Dr. Muttillo, Cade joined the Leesville staff in 2013 and began teaching in the history department.
Growing up, playing soccer was a useful way for sports involvement and exercise. Cade found a passion in soccer and played throughout clubs in college which helped her stay fit, meet new people, and enjoy the game she loves. In her job interview, Cade mentioned her experience with soccer and her interest in coaching. Shortly after she began teaching, she was approached by Dr. Muttillo regarding a coaching position.
"Right after I was hired here at Leesville, the principal at the time, Dr. Muttillo came up to me and mentioned to me about my interest in coaching in my initial job interview. He then offered me a position to coach for the JV boys soccer team and I was more than happy to accept", said Cade.
Working with well known Leesville coach and teacher, Paul Dinkenor, she became more familiarized and involved with coaching at Leesville. Dinkenor is a co worker and colleague to Cade in her beginning years as a coach, "Dink (Dinkenor) called me up in the summer of 2013 and familiarized me with the fields, equipment, etc. and the rest is history", said Cade.
Later down the road, Cade became engaged to her boyfriend Nick and married in the summer of 2015. Her first son, Harvey, was later born in 2016. After her first son was born, she decided to step down from coaching the boys soccer team. However, Dinkenor offered her a smaller and less stressful position to be assistant coach of the women's varsity team, in which she agreed.
Besides coaching soccer, Cade loves teaching and enjoys her work at Leesville to the fullest. Now, in the middle of her eighth year teaching at Leesville, she has nothing but compliments to its community. "There isn't anything that I don't like about Leesville, I fell in love with the community and people here immediately when I joined", said Cade. Coincidentally, her husband Nick and his two sisters attended Leesville. Once she joined Leesville's staff, Cade became co- workers with her husband's former teachers.
With the world still under the effects of the pandemic, Cade claims her adaptation to the changing learning environment is tough for both teachers and students.
Teaching a classroom full of teenagers is difficult on its own, and becomes even harder when social and creative aspects of school are taken away. "I am extremely personable and an extrovert. I'm really outgoing and love to get to know my students and build relationships with them throughout the school year," said Cade regarding teaching. When teaching class, Cade is a hands-on teacher, where interaction and collaboration between students and is outgoing when she gives lessons.
Having to adapt to the new environment takes away many aspects of school and learning. The health precautions limit her collaborative and personal reach to students. Virtual classrooms take away Cade's ability to better connect with students and build relationships with them. "Teaching virtually has been really difficult for me personally since I like to branch out to students a lot, and it's been hard to do that through a computer screen," said Cade.
She also explains how in the history department almost all of the lessons include some form of "hands-on" learning, where student and teacher collaboration is frequent throughout each lesson. Projects and assignments also require student interaction to complete, which is now harder to do with remote learning.
"I really try to make my lessons and teaching style tangible for students, and with all that's going on I feel like I don't really get the chance to break down things, answer questions thoroughly, and make y'all good writers. It just feels like I've lost a lot of that ability when teaching remotely," said Cade. In her classroom, she does her best to abide by Covid-19 protocol while including new and exciting ways to teach each lesson. With games, current events, and interesting videos she includes collaboration and creativity even while virtual.
Cade feels students do not receive enough credit for undergoing all the pandemic has thrown at them.
"We're all doing the best we can, and many people fall into the trap that students aren't doing well in school or they aren't doing the work, but really they're working hard and people don't give y'all (students) enough credit within all the changes to this school year," said Cade. She claims high school students shouldn't have to go through everything that is currently happening in the world.
Nearing the end of the third quarter, Cade continues to coach soccer for the LRHS women's team and works hard day and night to manage teaching under a new learning environment. With a bright teaching style and strong will to work with students, Cade proves to be one of the best teachers Leesville has to offer.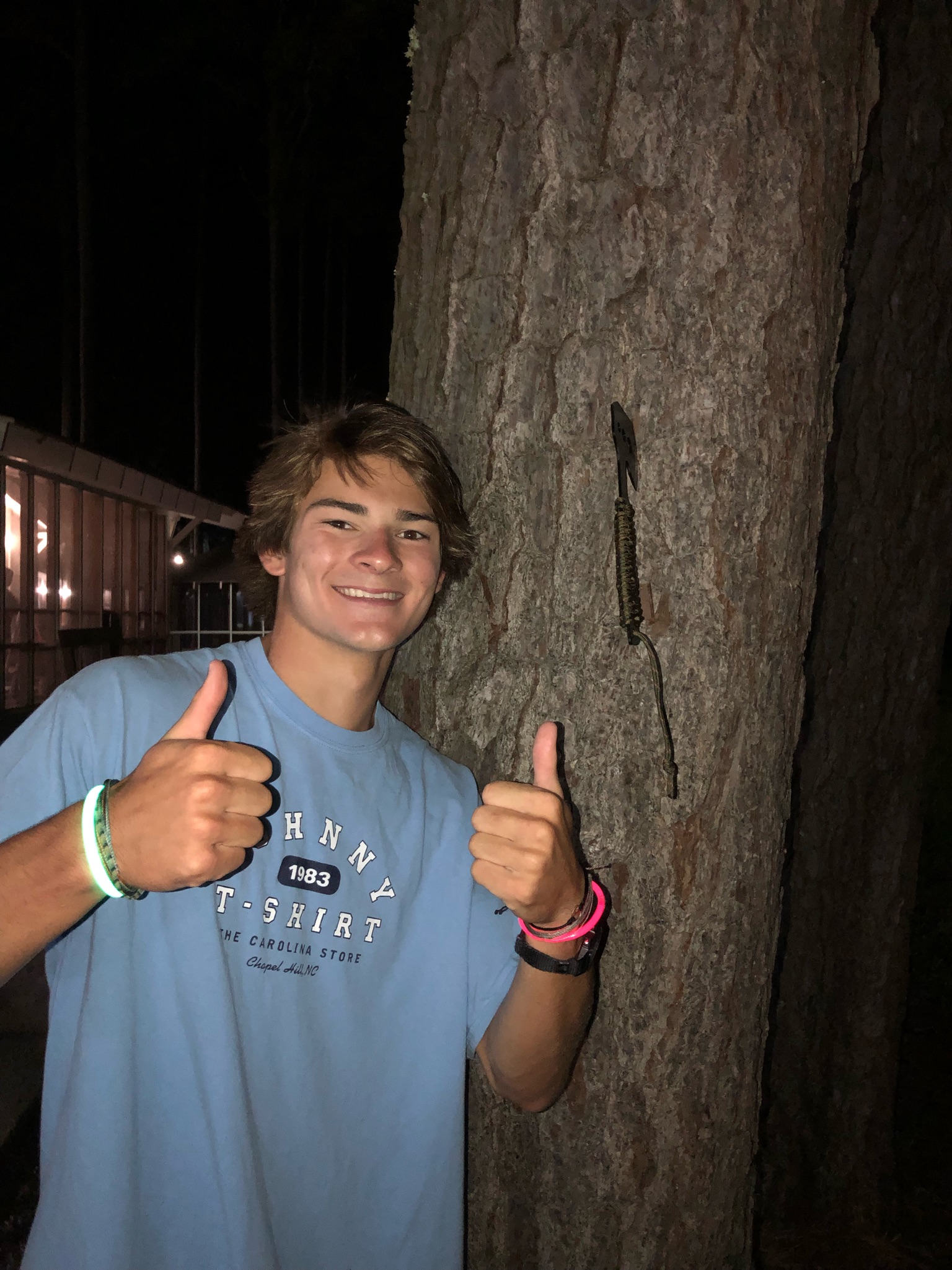 Hi! My name is Chase and I am a staff writer for The Mycenaean. Two fun facts about me are that I enjoy playing guitar with my dad and friends, and I also am a two-time spikeball tournament champion.