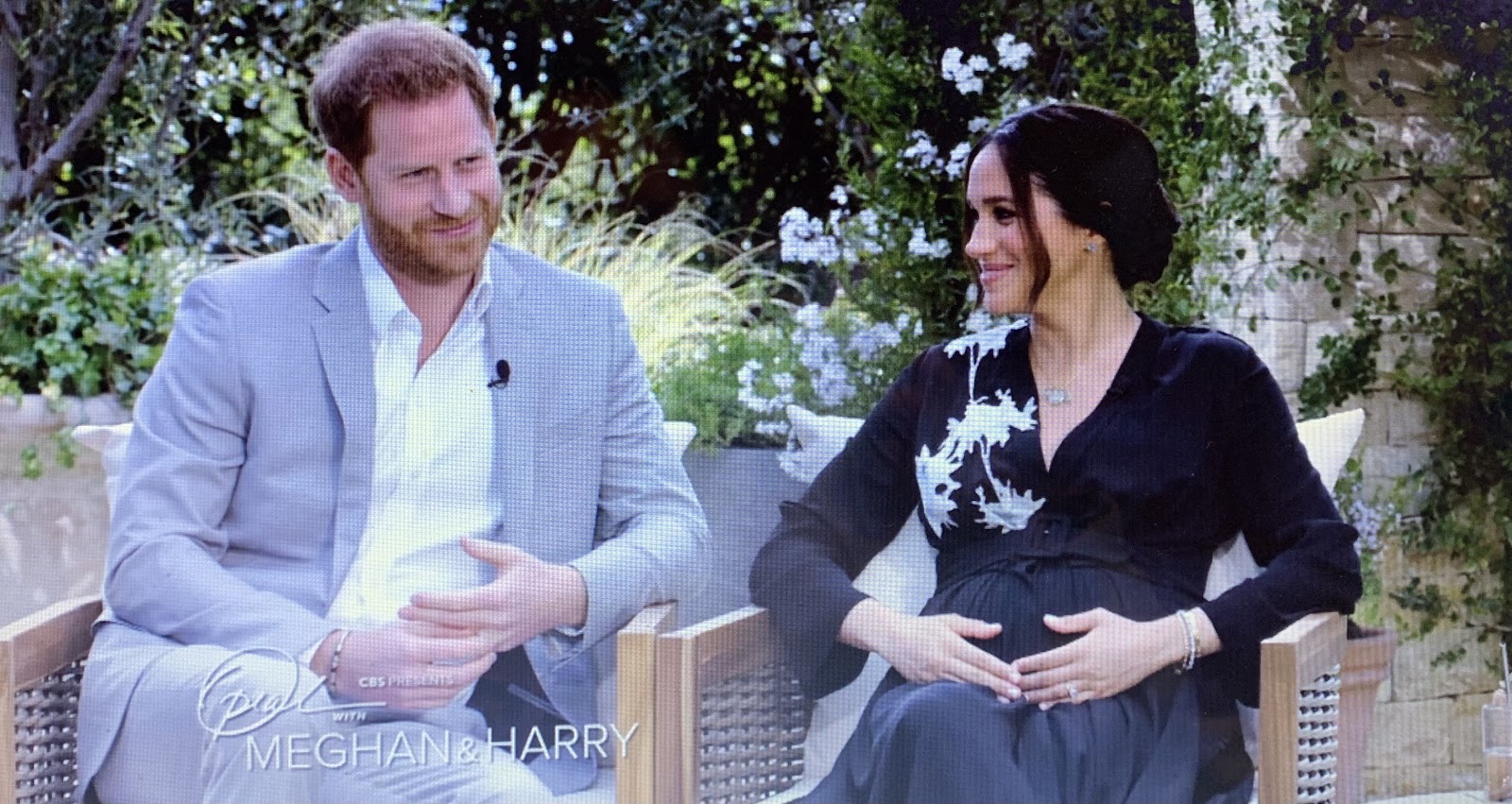 Prince Harry & Meghan, the Duke and Duchess of Sussex, speaking with Oprah Winfrey at a friend's house in California. This is the first interview they have done since moving to California last year. (Screengrab courtesy of Dayna Wilkerson)
Prince Harry and Meghan, the Duke and Duchess of Sussex sat down with Oprah Winfrey on March 7 to discuss their years in the royal family.
Meghan Markle became engaged to Prince Harry of the United Kingdom in late 2017. Since she is American, biracial, and a divorcee, she was an early target for the British tabloids.
After Prince Harry and Meghan got married in May 2018, the tabloids became more ruthless with hypocritical and racist headlines against Meghan.
"Kate's morning sickness cure? Prince William gifted with an avocado for pregnant duchess," a headline from the Daily Express read when Meghan's future sister-in-law, Kate Middleton suffered from morning sickness and her husband Prince William received an avocado to help.
"How Meghan's favourite avocado snack – beloved of all millennials – is fuelling human rights abuses, drought and murder," a headline from the Daily Mail said a year later when the press found Meghan posted a photo of avocado toast. 
Another British tabloid, the Daily Star, falsely claimed Prince Harry is marrying into "gangster royalty" and that Meghan is from a "crime-ridden neighbourhood."
Throughout their years as senior royals, the royal family never publicly debunked any claims or reprimanded the tabloids.
All the attacks hit a breaking point and drove the couple to move to Canada and announce they were stepping down as senior members of the royal family under a trial period in January 2020.
A year later, the transition became official, but Prince Harry and Meghan had to give up many privileges they had while they were senior royals. 
Prince Harry and Meghan lost the patronages given by the Queen. They cannot publicly work for the Queen anymore, and they lost the right to be called Their Royal Highnesses and Harry's honorary military titles.  
Two months after stepping down, Prince Harry and Meghan sat down with friend Oprah Winfrey to speak out about everything that has happened in the past years.
Prince Harry and Meghan discussed for the first and only time about rumors during their time as senior royals and many details the public did not know during the interview. Here are the biggest statements.
Allegedly Kate Was The One Who Made Meghan Cry
A few months after Prince Harry and Meghan's wedding, rumors began to swirl that Meghan made Kate Middleton, the Duchess of Cambridge, cry over a dispute over flower girl dresses for the wedding.
"The narrative with Kate, which didn't happen, was really difficult," Meghan said during her interview. "And something that…I think that's when everything changed really."
Meghan claims Kate made her cry. "It was a really hard week of the wedding, and she was upset about something, but she owned it," Meghan said. "And she apologized. She brought me flowers and a note apologizing."
Meghan made clear that she is not trying to disparage Kate, she just wanted to set the record straight.
The Family Did Not Want Their Child To Be A Prince
When Meghan gave birth to her and Prince Harry's son Archie in May 2019, the royal family announced that Meghan and Prince Harry did not want their son to have a title. 
The couple claims that their family did not want Archie to become a prince or have the protection that comes with the title at the time of his birth.
According to the 1917 patent that King George V made that says any grandchild of the current monarch becomes a prince or princess. Therefore, when Prince Charles becomes King, Archie would automatically becomes a prince.
There were discussions to change the patent when Meghan was pregnant with Archie.
"I heard a lot of it [conversations about changing the patent] through Harry," Markle said. "Then other parts of it through conversations with family members."
Meghan could not understand why her child would not be called a prince when it is a tradition for the grandchild of an heir to be called a prince or princess. 
Meghan's concerns about her son's safety were not the only thing on her mind about the discussions. "The idea of the first member of color in this family not being titled in the same way other grandchildren would be."
Meghan says she never received an explanation and still does not know the reason why Archie did not receive a title.
Some Royals Were Concerned About Archie's Possible Skin Tone
In the late months of Markle's pregnancy, senior members of the royal family were concerned about how dark Archie's skin might be since he would be around 25% Black.
"That was relayed to me from Harry, that was from conversations that family had with him," Markle said. "It was really hard to see those as compartmentalized conversations."
At first, Prince Harry and Meghan did not want to share who was talking about Archie's possible skin tone. 
Off-camera to Oprah, Prince Harry did clarify that Queen Elizabeth II and the Duke of Edinburgh, his grandparents, were not involved.
Meghan Suffered From Suicidal Thoughts
At the height of the tabloid's attacks on her character, Meghan suffered from suicidal thoughts.
"I would sit up at night, and I was just like I don't understand how all of this is being churned out," Meghan said. "I wasn't seeing it, but it's almost worse when you feel it through the expression of my mom or my friends."
Meghan was hesitant to tell Prince Harry just because of the amount of loss he has gone through. "But I knew if I didn't say it, I would do it," Meghan said. "I just didn't want to be alive anymore."
"That was a very clear and real and frightening constant thought."
The royal family refused to let her go to a mental hospital for treatment for her suicidal thoughts. 
Responses from the Royal Family
Two days after the interview, Buckingham Palace released a statement about the interview. 
"The whole family is saddened to learn the full extent of how challenging the last few years have been for Harry and Meghan," the statement said.
The statement said that the family was concerned over the allegations of racism. "While some recollections may vary, they are taken very seriously and will be addressed by the family privately."
While leaving an event in London on March 11, Prince Harry's brother Prince William responded to a reporter's question about racism in the royal family.
"We are very much not a racist family," Prince William responded.
Prince Harry and Meghan are now residing in California with their son, unborn daughter, and dogs, where they can continue a life of service away from the British tabloids.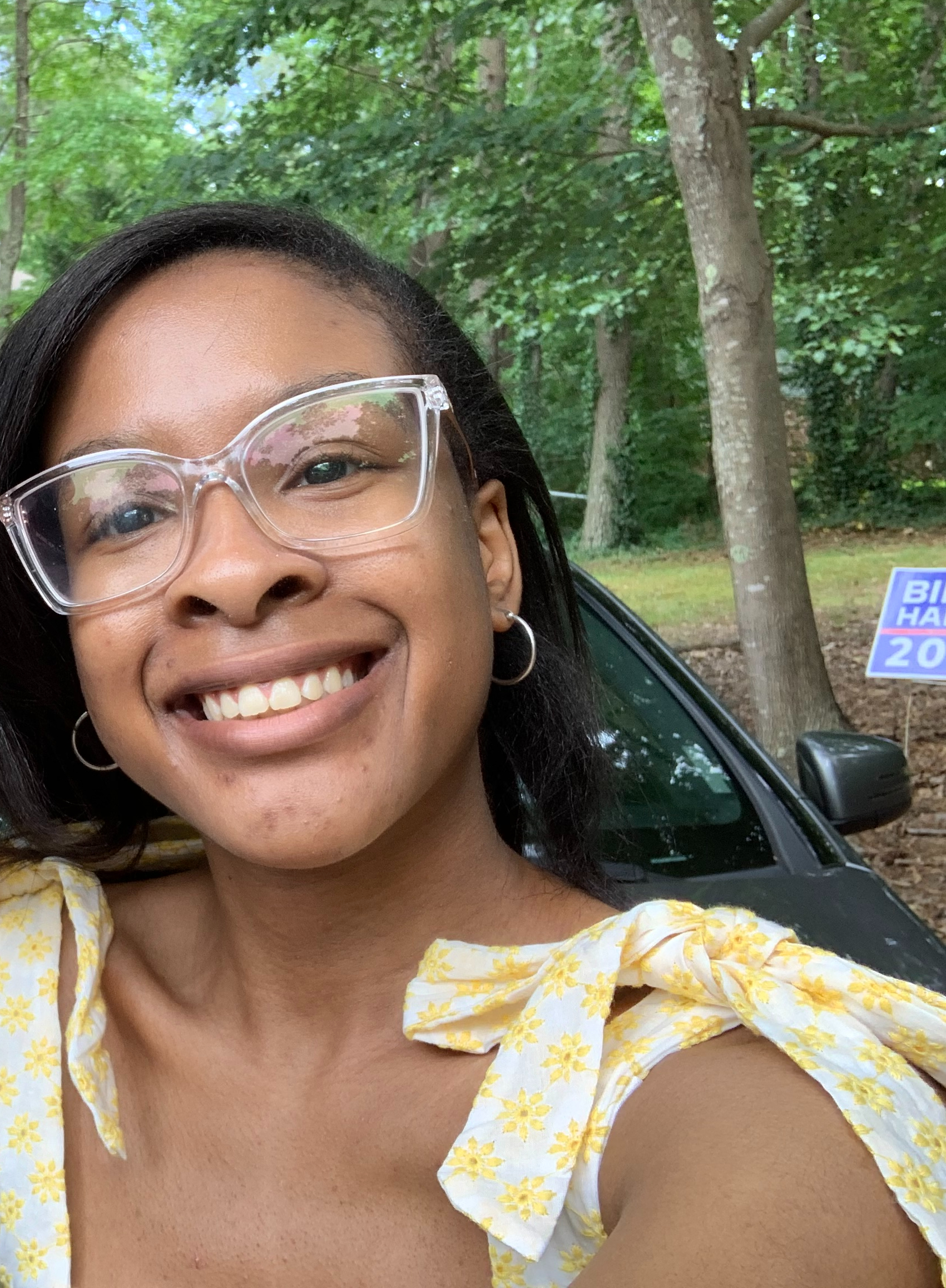 Hey guys! My name is Dayna, and I am the Editor-in-Chief of the Mycenaean this school year. I love reading, cooking/baking, and hanging out with my friends and family!