This year's cross county season was much different from years past, including a smaller team and less racing opportunities. The seniors on the team have worked hard to make a positive impact on their peers. 
This year's team includes 6 senior girls and 6 senior boys. They got a senior night during the season to commemorate their hard work, complete with posters the underclassmen made and special recognition. Although it was a smaller team this year, their dedication proved their commitment to the sport. 
Liam Halberstadt, senior, who has been on the team for the past four years. He started Cross Country as a freshman and has participated in Cross Country App State Camp and other team activities over the years. His personal record for the 5k run is 18:37, and he specializes in mid to short distance events such as the 400 Meter and 800 Meter runs. 
"My favorite memory is [Ethan] Ply eating the watermelon off the ground after it had been thrown from the top of fire tower," said Halberstadt over GroupMe. 
This is one of the many traditions the team has at App State camp during the summers. One of the Leesville Alumni who attend as a chaperone will carry a watermelon to the top of a 4-mile mountain where it is then dropped from an old fire tower. Traditions like these have been continued for years, and once App State is allowing campers to return, it will hopefully continue on in the future generations. 
Running is not the most enjoyable activity to do by oneself, so it helps that teammates are there to talk and keep you distracted during runs. "The thing I will miss the most is the people on the team, they always made the hours of running bearable," wrote Halberstadt. 
The XC team has been tight-knit for years, as a combination of pasta dinners the nights before races and pancake breakfasts the mornings before runs bring everyone together. 
Halberstadt advises his younger teammates to "know that proper recovery is just as important as the actual work, so don't skip out on it." He also wants them to learn how to work as a team. His wisdom comes from personal experience. "Where I found the greatest success is when I was pushing other teammates, and other teammates were pushing me." Halberstadt has left a lasting impact on the team as someone who values friendship and comradery, and he hopes his teammates will remember to value that as well. 
Helena Bunte is one of the most dedicated girls on the XC team, always showing up to practices giving her all. She has been on the XC team for the past three years, starting her sophomore year. Bunte's 5k personal record is 21:02, and she also has fast PRs in both indoor and outdoor track, including her impressive 2:34 800 Meter time and 5:56 mile time. 
"My favorite memory is definitely App state camp. I loved running up fire tower, the early morning runs, the late night trips to Cookout, and just hanging out with the team," said Bunte over text. 
App State camp is definitely a favorite amongst the returning runners, as it provides an amazing team-bonding experience along with fun running opportunities and breathtaking views of the mountains. 
Bunte is also going to miss the team aspect of the sport the most. "I'm going to miss seeing my team everyday. Everybody is so nice and hardworking," wrote Bunte. Even though the final season is over for her, she still finds a way to meet up with friends and go on long runs through Umstead or the ATT. 
Bunte advises the younger athletes to, "eat pasta before races and don't forget to hydrate!" As a captain for the team last year, Bunte knows how important it is to hydrate and carbo-load before races. She sends out reminders to the girls, so they don't forget and she hopes they will keep up the good work next year. 
Bunte hopes to be remembered for her impact as a friendly and inclusive leader, and she wants the younger girls to always find a way to have fun. She often organizes fun runs and activities to make the sport exciting and interesting, and she never ceases to amaze others at her dedication and hard work.
Ethan Ply has been running on the XC team since freshman year. He recently raced his personal record of 16:58 on a 5k for the Cap 7 Championship race. Ply's dedication has also shown through his improvement these past four years and his progression serves as an example of what comes out of hard work and motivation. 
Ply's favorite memory is also of App State cross country camp. He attended camp numerous times over the course of high school and contributed to the team significantly. Even as a freshman he left his mark, gaining the nickname "Ethan The Animal Ply." He was definitely the loudest counter during warm ups and has served as a role model for younger athletes.
"My advice to younger runners is to have fun and even if you platow, keep working hard because eventually you'll see results," said Ply over GroupMe. His personal experience with this proves it can be done. After plateau for a little during junior and senior years, he broke out the last couple of races with stronger and faster times than ever. 
Ply has made an impact as a hard worker, dedicating his free time to building the cross country team. His contributions were much valued to the team over the past years through friendship, laughter, motivation, and ability to never give up. 
James Rolf Blizzard has been an important aspect of the team for 4 years now, starting strong as one of the fastest runners Leesville has seen. His XC personal record stands at 15:37 for the 5k, also setting school records for the 2 mile and 3000 meter races in the XC season. Blizzard was the only member of the Leesville XC team to race at states this year, getting 12th with a time of 16:40 in the 5k. It is not uncommon for Blizzard to win races, often pushing the team to top placing. 
Blizzard has made more memories than just his record racing. "The team bonding aspect and countless funny arguments on easy runs [has been my favorite part of XC]," said Blizzard over text. Blizzard has been a team captain for Cross Country the last two years, inspiring his teammates to achieve greatness. He has helped build the team to where it is now, including the close-knit quality it possesses. 
When asked about what he would miss most about XC, Blizzard wrote, "Definitely not Kernersville… but the encouraging team environment." Kernersville is the States course for XC and has been for years now. It has a reputation for being a rough course with a lot of mud/sand and results in bad times. However, the encouraging team environment has been a huge aspect of XC. 
The guys and girls team always cheer for each other during workouts and sometimes even help pace each other. In XC, there is support not only in running but in all aspects of life including school and social lives, and every person has contributed significantly to that environment. 
Blizzard wants younger athletes to "never give up even when you feel like it's hurting because the person beside you hurts just as much. Also, don't worry about the person beside you." Blizzard has not given up in his racing or in his diligence to do what's right on and off the track. 
You can be sure to see him running at Umstead or around Lake Lynn whenever practice is cancelled or in the off-season. Relentless in his running, Blizzard has made a huge impact on the team as a person. Not because of how fast he is, but because of how encouraging and supportive he is towards every person on the team. Blizzard goes out of his way to make sure everyone feels supported and respected, and keeps the tone of practice light with his questions and jokes.
Caroline Comeskey has been running on the XC team since her freshman year. Her 5k personal record is 21:37, and she is 11th in NC for her Steeplechase time (steeplechase consists of hurdles and a water barrier placed around a track). Comeskey originally joined XC because her sister Hannah coaxed her to run the summer practices for a week. Since then, Comeskey has met her best friends on the team and continues to love the team and sport itself. 
"My favorite memory from cross country has been all of the pre-race pasta parties," said Comeskey over text. The pre-race pasta parties are another tradition the XC team has held over the years, encouraging team bonding. Comeskey has held a big role in the team bonding aspect of Cross Country. She serves as an inspiration for many younger athletes, as she is always supportive no matter how hard something seems. Comeskey always looks on the bright side of things and encourages fun runs and attitudes. 
Comeskey always puts her best foot forward when it comes not only to running but also to making friends. She was quick to befriend the new athletes this year, as her welcoming apparatus made it easy for them to approach and converse with her. "I'm going to miss joking around at practice with my friends," Comeskey wrote about what she was going to miss most about XC. Every practice, Comeskey makes the most of the sometimes painful sport by joking around and having fun with her teammates. This is what makes her such a memorable teammate. 
Comeskey wants the younger athletes to learn how to work together and have fun. A big part of XC is the team aspect, as it takes a team of 5 people to score in a race. You have to learn how to trust your teammates in this sport, to trust their pacing and strategy, or else you will find yourself lost among the other racers. Comeskey has left her impact as a welcoming and kind teammate, always willing to step in and help others when no one else will. Comeskey's selflessness and integrity (both in and out of XC) models what each person should reflect in their teamwork and throughout life. 
Michael St Louis has been running XC since his sophomore year at LRHS. St Louis's XC PR is 17:43 for the 5k, with strong 3200 and 800 times in track as well. St Louis has been an intricate part of the team, serving as a role model for a lot of the younger athletes. His charisma and encouragement help to motivate the team through tough workouts and races.
St Louis's favorite memories from XC have also been the pasta parties before races and the team activities in general. "I'm going to miss hanging out with the team," said St Louis over text. Similar to most other athletes on the team, St Louis has met a lot of his close friends through the sport and is thankful he tried it out. 
St Louis had a bad ankle injury his junior year during Indoor Track that prevented him from racing the entire season. It was hard to build back up, but he finally got back to where he was before and even PR'd his outdoor track season that same year. 
His advice to newcomers on the team is to "listen to their bodies and stop for injuries." It is better to take a day off and heal instead of taking a whole season off due to injury. All the precautions for injury prevention should be taken, since it is such a serious setback both physically and emotionally. However, if injury is inevitable, St Louis stands as an example of how someone can bounce back with as much gumption as before and come back strong.  
St Louis's impact on the team is one of leadership and fun. Since a lot of the guys run with St Louis, he is commonly looked up to for advice in and out of the track. His advice and comic relief add positivity to everyone's day and will be remembered for years to come. 
Connor Blackburn is the senior rookie of the team. He ran track last year, but this is his first official cross country season for the school. Blackburn's personal record in the 5k is 18:26, an impressive time for the first season he is running, especially during this pandemic. Blackburn is a swimmer and used his endurace to make the most out of every workout and build his base for faster times. Although this is his first season running lots of mileage, it is not his first time running. According to Blackburn, he ran all three years of middle school, he just decided to revive his love for the sport now. 
"My favorite XC memory is going and watching meets. Specifically regionals and states when I got to hang out and meet friends," said Blackburn over text. Blackburn is one of the most supportive members of the team, especially for being new this year. He knows everyone's names and makes sure to cheer for them at every possible opportunity. Traveling to Regionals in Wilmington and States in Kernersville is a lot to ask, especially when both cost money to attend. However, Blackburn jumped at both opportunities to cheer on the team to success. 
Blackburn also enjoys the bonding and closeness of the XC team. "I am going to miss the high school environment with everyone being at the same school and the bonding it creates," said Blackburn over text. Blackburn has friends from his swim team who also run on the XC team at Leesville, which is what connected him to the sport in the first place. He enjoyed meeting new friends and being there for each and every person who gave it their all on the track. 
"I would let younger runners know that they should try [cross country]. It can be super fun regardless of how involved you are," wrote Blackburn. He was originally not sold on the idea of running up to 8 miles a day, but the bonding and friendships that were made kept him in the sport. Blackburn has left his impact as an inclusive teammate who added to a great environment. He never leaves anyone out and always makes sure everyone feels like an important part of the team. His bright attitude always makes people smile, and his impact on the runners will not be forgotten any time soon.
Austin Groom is another senior who participated in XC this year. His personal record in the 5k stands at 17:09. Groom has worked hard through injury after injury to come back strong. He has faced injuries dating back every year he has run for the school. However, he doesn't let that deter him or his mentality. Instead, he jumps back up and proves that you should never give up, because rewards outweigh self-pity. 
Groom's impact is one of determination and grit. He proved that no matter what someone is going through, there is always a way to persevere. There are no shortcuts to success, but there are stair steps. Even if there are setbacks on the way up, you can still reach the top, and Groom's perseverance has proven just that. 
Cameron Bartsch has also been on the XC team all four years of high school with a 5k PR of 25:32. She has worked hard every year to improve, and it paid off. Her welcoming and kind attitude never fails to put a smile on anyone's face, and her giving spirit inspires others to be selfless. Bartsch is willing to run with anyone, always making sure it is a lively run, full of adventure and new trails through the library or neighborhoods. 
Bartsch's lasting impact on the team consists of her kindness and outgoing personality. Bartsch will always be the first one to introduce herself and strike up a conversation with someone. She always cheers for everyone at meets and has role model sportsmanship towards the other teams. Bartsch is definitely a role model for the runners on the Leesville XC team, and her legacy will continue for years to come. 
Meghan Gracey has participated in XC since her sophomore year with a 5k PR of 22:45. She has also consistently run track and improved through the years, getting towards a 6:20 mile time and 14:30 2-mile time. Her personality is very outgoing and honest. Gracey's lasting impact on the team will be one of determination, as she always shows up to practice ready for a challenge. She is never afraid to give it her all, and always tries her best no matter what stands in her way. 
Regan O'Brien has run for the XC team at Leesville since her Junior year. Her 5k PR is 23:34, which is impressive, especially considering she raced it during Covid and the on-and-off training schedule this year. She has been going to summer practices since her freshman year and was always a really strong runner with high endurance and no shortage of topics to talk about on runs. Running with O'Brien is never boring, and always something to look forward to.
O'Brien's lasting impact consists of her laughter, kindness, and care for everyone around her. Her determination to do soccer and XC at the same time is also noteworthy, as that is not an easy task to do. However, she never complained, but instead took every opportunity to persevere and show others persistence. O'Brien's joy for life is contagious to everyone around her, and her positive impact on the team will not be forgotten any time soon. 
All the seniors on the XC team have worked hard with determination and perseverance, brought the team closer together with their encouragement and kindness, and worked together to create a tight-knit community of friends.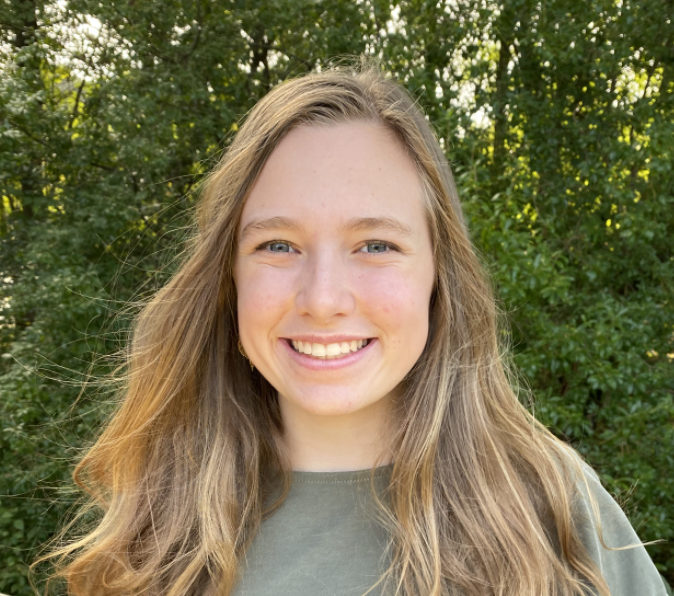 Hi! My name is Abigail and I am a senior editor for The Mycenaean. I am also a member of Leesville's cross country team and track team, as well as the president of National Technical Honor Society.