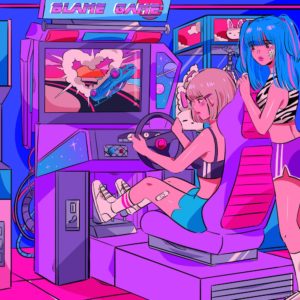 Friday, January 15, the Chicago indie band Beach Bunny released their new four-track long EP Blame Game. 
Although short, this EP stands out as being bolder from their previous works in both sound and style. During a livestream they did back in November for the release of the "Good Girls (Don't Get Used)" music video, they discussed how different Blame Game is from their previous album Honeymoon both tonally and stylistically.
According to Lili Trifilio, Honeymoon had "a bad vibe to it" and felt more like a "breakup album" while this newest album is more "angsty, confident, [and] sort of sassy." It's noticeably more cohesive in both theme and style than their last album which Trifilio herself says was more of a compilation of songs written over a long period of time. 
As a whole, it deals with topics such as toxic masculinity, sexism, and bad relationships in a fun, upbeat way that fits with the retro arcade aesthetic of the album. The brightly colored gamer style is the most blatant example of how different Blame Game is from all their other albums which give off more sad, soft pastel vibes.
Besides the contrast from Honeymoon, they also discussed several topics from influences on their music, their process of making music, and just more about themselves outside of their music. They also hinted at wanting to release more music sometime since they have so much time on their hands. However, the focus of the livestream was on the "Good Girls" music video which can best be summed up with Trifilio's description of "I fight a lot of people and then we do a sick band breakdown."
In addition to "Good Girls," the title track of the album also has a music video to go along with it. As a commentary on rape culture, "Blame Game" plays with the idea of blame and the roles of "victim" and "suspect" according to society's warped view of the subject.
In a promotional email for the EP, Trifilio says this:
'Blame Game"' at its simplest form is a dialogue about sexism. I wanted to write a song that sounded like a conversation between a femme person and society, criticizing the hypocrisy of the demands placed on women to simultaneously be encouraged and discouraged to engage in 'sex' or be viewed 'sexually.' I wanted this song to conclude the EP by showing that sexism is deep rooted throughout past and modern society, and that the power dynamics and toxic masculinity present in some relationship dynamics is the result of sexism as a whole. The song addresses a series of heavy topics all rooted in putting blame on the victim for sexual advances, sexist actions, and unwanted pursuits, as if just having a femme body warrants abuse. As the last song on the EP, this track was written to advocate for change and to discuss some of my own experiences with sexism, first and second hand.
The seriousness of "Blame Game" contrasts with the rest of the tracks, making it an almost sobering end to the EP after the tropical fun time vibes of "Love Sick" and the punchy bitterness of "Nice Guys." However, all the tracks are connected by the video game-inspired language littered throughout and a common theme of "guys suck".
To go along with the video game theme, their website has a racing game that features an 8-bit version of "Good Girls (Don't Get Used)", and players who complete the game can win an exclusive downloadable version of the 8-bit tune. Their website also has super cool Blame Game merch that draws on the video game-style of the album that's totally worth checking out.