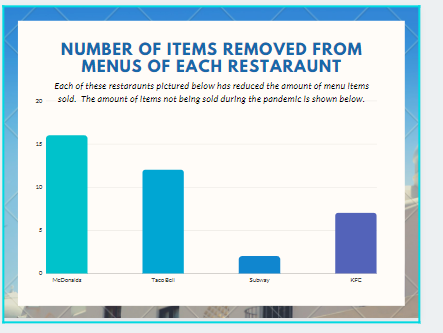 McDonald's, Taco Bell, Subway, and KFC have all reduced their menus to some extent in order to cope with the pandemic.  (Photo courtesy of Isabel Weld)
The coronavirus has affected companies across the world. Many fast-food restaurants have decided to stop selling some of their menu items during the pandemic.  Some of these menu reductions will be temporary, while others may be permanent.  
Here's why some reduced their menu in the first place.
Speed & Efficiency
In April 2020 McDonald's wrote, "We want to keep serving you during these challenging times, and in some areas that means, temporarily, having a limited menu to ensure our restaurant teams are delivering a contactless pickup experience." 
CEO Chris Kempcinzski claims that reducing items from the menu helps the drive-thru run smoothly.  One of the biggest changes that McDonald's made to their menu was that they will only be serving breakfast until 11:00 am. Not serving breakfast in the evening hours allows for the employees to use the equipment only for cooking lunch and to "share" the equipment for lunch items with breakfast. Another reason for eliminating certain items was to maintain costs. More menu items mean that the restaurant has to purchase more ingredients, and with more options, all of the ingredients are less likely to get used.
Advantages for Competitors
Around the time McDonald's and Taco Bell removed breakfast items from their menu, Wendy's added a new breakfast menu that included a mix of salty and sweet food, as well as drinks. 
McDonald's CEO Chris Kempcinzski announced that other competitors adding breakfast items after McDonald's eradicated those items "was one area of pressure" for the restaurant's recent earnings.  Wendy's, for example, now makes almost 10% of its profits from breakfast alone.  
Adding Items Back to the Menu & Replacing Some
Until June 2020, the fast-food chain KFC offered potato wedges. During the month of June, french fries replaced these wedges. This addition has caused a lot of controversy across social media.  
McDonald's added bakery items to their menu in October 2020 for the first time in a decade. The new items are offered all day, unlike their breakfast.  
Linda Van Gosen, who is the vice president of brand and menu strategy, wrote in a statement,  "We know our customers deserve a break now more than ever, and are excited to give them another reason to visit their favorite breakfast destination by offering delicious flavors they crave, any time of the day." (read more about it here)
Another thing that McDonald's did was collaborate with singer J Balvin to release the "J Balvin" meal, which was a temporary promotion that added a new menu item. That October, Spicy McNuggets also made a comeback for the first time in years.  
Subway did eliminate roast beef and rotisserie chicken options for its sandwiches but did add a BBQ rib footlong in their place. According to a company spokesperson, Subway is relying on its $5 footlong deal in order to attract customers in order to make sales. Some officials, however, claim that the promotion is unprofitable.  (read about it here)
Customer's Responses
Overall the response of restaurants changing their menus has been negative across social media. A customer wasn't happy with the replacement of the potato wedges at KFC, and tweeted, "Ok @kfc why did you change the potato wedges….."  There is even a change.org petition to bring back the potato wedges with almost 1,500 signatures.  Sign here if interested.  
At McDonald's, employees have seen plenty of disappointed customers leave once they heard that all-day breakfast was no longer a thing there.  
Overall, customers everywhere are disappointed by the menu changes, and fast-food chains are also bringing new items to the menu in order to satisfy customers.  
Hi! My name is Isabel and I am a staff writer for The Mycenaean. I am also a member of Leesville's Math Club.