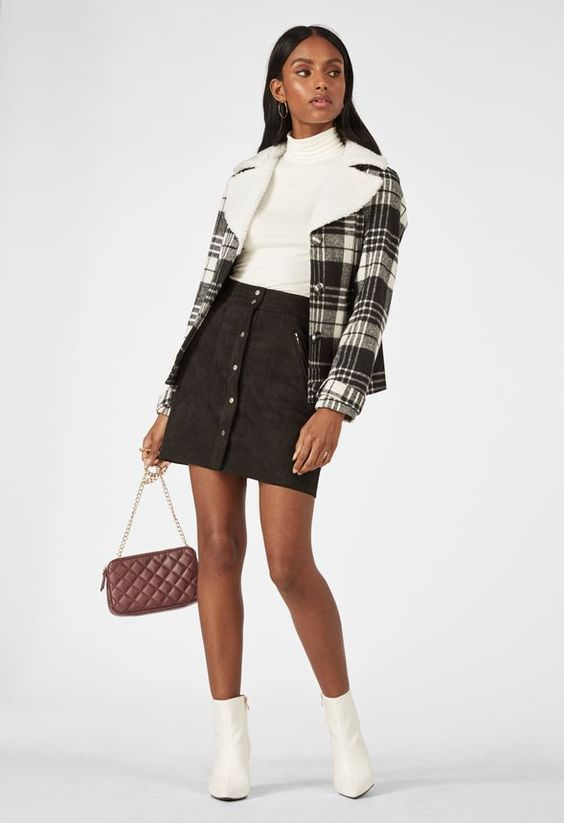 Caption: Fall fashion often combines comfort, sustainability, and personal style. This picture represents fall fashion trends because of the ankle boots, shoulder purse, turtle necks, and flannel jacket. (Photo courtesy of Public Domain) 
During the fall and winter seasons, you have to add layers, which take outfits to a whole new level. Some of these trends need to layer– this opens up more opportunities to incorporate trendy styles into your wardrobe. 
With COVID-19, people are not leaving the house as much, yet there are still times when you would leave the house. These trends can help you look stylish while staying comfortable and remaining safe in public. 
Patchwork:
(Photo courtesy of public domain)
Patchwork does not only have an eye-catching funky aesthetic, but it is also sustainable. This is a trend you can do at home by piecing together scraps of old clothes or fabric instead of throwing them away. 
This trend is also perfect for COVID because most patchwork items are comfortable and easy to wear. While going out during this time you might not want to wear anything super stylish, so this trend is easy and in fashion.
Jewel Tones:
(Photo courtesy of public domain)
Jewel tones are brightly saturated hues perfect for fall because of the way they pop with the changing colors of the leaves. Tones include stunning shades of sapphire blue, ruby red, amethyst purple, citrine yellow, and emerald green.
To wear jewel tones COVID appropriately, try finding a mask that is one of the jewel tones, or looks for sweaters and shirts.
Prep:
(Photo Courtesy of public domain)
This clothing trend includes elements drawn from a typical preppy style. Appearing to have a wealthy appearance is what people often achieve when dressing prep. It shows wealth by resembling old Eastern boarding school fashion, also known as well-dressed people with a traditional manner of speech. 
Prep is the most achievable during COVID because of the different clothing items worn with prep. People don't really want to dress up during this time, sweatshirts and turtlenecks are comfortable but still trendy.  
Prep is cold-weather appropriate because of the different pieces that are added. To pull off this trend, aim for crewnecks, collared shirts, turtlenecks, blazers, tennis skirts, small shoulder purses, boots of all heights, and gold jewelry. 
Metallics:
(Photo courtesy of public domain)
Increasing in today's fashion, metallics are most found in party and evening wear, but with COVID they are becoming more popular in day-to-day streetwear. With a smaller chance of leaving the house, metallics would not be worn as much, but with the upcoming holiday season, they will be a go-to. 
Metallics are beginning to accustom to the teenage culture through shirts, skirts, and small pieces such as a metallic detail. You can wear metallics to dinner with friends, school functions that require semi-formal attire, or in everyday attire with small accessories. 
Metallics can take any outfit to the next level. When styled right metallics can add a taste of glamour to your wardrobe without coming off too flashy.
Fringe:
(Photo courtesy of public domain)
Fringe is trim that can be applied to any part of a garment. If it is either on the back of a denim jacket or on the bottom of a pair of jeans, this texture adds a pop of fun to any clothing item. 
While fringe is still manifesting through Western-inspired jackets and dresses that are reminiscent of 1920's flappers, designers are making it clear that fringe can be street-wear. Fringe can range from a big statement to a simple accent, making it a perfect trend for all.
Hey! I'm Viv. I am president of the club Pride Players, as well as a member of NHS, FCA, and SNAC Club. I also play on the Varsity Softball team. You will probably see me around school or at sporting events with my camera!