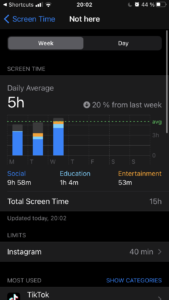 My screen time average per day.  I spend most of my time on social media apps such as Tiktok and Instagram. (Photo courtesy of Isabel Weld) 
Many people, especially older adults, claim that teenagers do nothing but look at their beloved phones.  
Beth Felts, mother to Ivy (a LRHS freshman), said, "I think most teens spend most of their time chatting with friends and classmates, playing games and watching random videos of people doing foolish things."  She does not think that teens are very productive during screen time.  
LRHS teenagers spend on average seven hours per day on their cellular devices.  
Jacqueline Willis, a junior at LRHS, said via text that the apps she uses the most are Snapchat, Instagram, Tiktok, and Netflix. The main things she does on her phone are, "scrolling through social media and watching TV."  Dian, another LRHS student, spends most of his screen time on Instagram, iMessage, or Snapchat.  His favorite activities are "(spending time on) social media and texting friends."  
Usually kids are just on their phones to have fun or to relax.  
But sometimes they do somewhat educational activities.   Ivy's mother then said, "To (Ivy's) credit, my teen does enjoy watching educational videos that present opposing viewpoints on controversial topics.  She also listens to music and shops for items to place on her birthday or Christmas wishlist."
Felts, who is part of Generation X,  said, "My phone/internet use is in short bursts rather than for prolonged periods of time.  As an adult with many responsibilities, I simply don't have the luxury of spending an excessive amount of my day online, even if I wanted to."  She does not have the time to spend hours on her cell phone and would not use it much even if she could.  
Teenagers do a mix of fun, relaxing, educational, and productive things on their phones.  Some of the most popular apps among Generation Z students who attend Leesville are Snapchat, Instagram, and TikTok.  They use them to communicate with friends and watch or look at funny things.  
Is seven hours per day too much? Most parents would say yes, and some teens may as well.  The time spent varies from person to person and reducing your screen time in order to be more productive may be a good idea.
Hi! My name is Isabel and I am a staff writer for The Mycenaean. I am also a member of Leesville's Math Club.