Contributors: Abigail Mabe and Francis Fleming
Dancing With The Stars Mistake 
(US Weekly photo) 
Monday night, Dancing with the Stars host Tyra Banks announced Monica Aldama was safe from elimination and declared the final two couples left on the floor, but there were still three left. She said it was a live TV mistake, that her cue cards were wrong, and called Aldama back to jeopardy in the bottom two. Everyone is angry at Banks for this mistake, empathetic for Aldama, and comparing Banks' mess-up to Steve Harvey's mistake of announcing the wrong winner during the 2015 Miss Universe competition. Read more here.
Mcally vs. Kelly Senator Race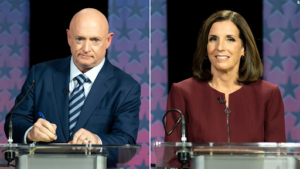 (CNN politics image)
Republican Senator Martha Mcally of Arizona would not vocally support President Trump in a debate against her Democratic opponent, Mark Kelly, on October 6. She skirted the question, telling her constituents she could not wait to lower taxes for them. The Arizona race is one of the most competitive and could sway the rest of the election, with two extremely strong candidates. Mcally was the first female air force pilot where Kelly is one of the strongest Democratic candidates in the nation. You can read more about their debate and the senate race here.
Bachelor/Bachelorette Stars Off-Screen Relationship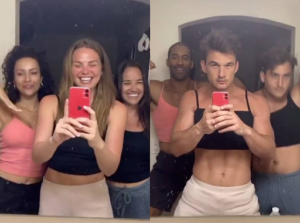 (E-online photo)
Hannah Brown, Bachelor and Bachelorette star, and Tyler Cameron, Bachelorette contestant, quarantined together during the pandemic earlier this year. Brown revealed that during their time together she and Cameron bonded over the death of his mom and Brown's brother overdosing. They leaned on each other for support more than anything else, but unfortunately for Cameron and Brown fans, they are officially just friends. Read more about it here. 
Trumps Recovery
(CNN Politics image)
Saturday October 10, Donald Trump has been cleared to resume his active schedule by his physician. After 10 days of symptoms, the President has met the requirements to be released from isolation and has been symptom free for 24 hours. Although there is no evidence of a negative test for the virus, Trump will prepare to continue his campaign for his re-election. Read more on the topic here.
The Kaepernick Essays
(NY Times image)
Colin Kaepernick, professional American football player and civil rights activist, is declaring for the abolishment of police and prison institutions. Kaepernick is planning on publishing 30 essays over the next four weeks over  the subject. The first essay was published on Tuesday called "The Demand for Abolition." The driving force behind this idea is Kaepernick wants to get rid of the "white supremacist establishments" and bring justice for his people. Read more on this story here