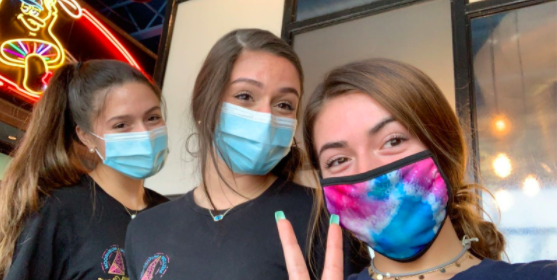 Students working jobs during COVID-19 have experienced changes in their protocol, availability, and safety. They could be more at risk for the virus, since most are involved with interacting with people daily, but this does not deter them.
Restaurants are required to seat customers at half capacity in the building, or they could choose to close indoor seating completely but still offer carry out and delivery options.
Pokano, a restaurant located in Brennan Station, Raleigh, has implemented several safety precautions during COVID-19 to ensure customer and staff safety.
"Other than wearing masks, the sauces and fountain drink stuff usually sits in the dining area but for everyone's safety we have to keep that in the back," said Lucy Caraballo (through a text interview), cashier at Pokano and senior at Leesville Road High School.
Pokano closed their indoor dining availability at the beginning of the pandemic and just recently opened it back up to their customers while implementing the 6 feet and half capacity rule.
The Mellow Mushroom in Brier Creek is a new restaurant that opened before COVID-19 occurred. "All employees must wear masks and gloves, and we must clean every menu after it's been touched," said Savannah Dunham (through a text interview), hostess at Mellow Mushroom and senior at LRHS. Mellow Mushroom has also had to cut down their seating to half capacity at all times to follow protocol, and parties with more than 7 people cannot be seated at the same table.
The Panera on Glenwood has also taken numerous safety precautions such as requiring employees to wash their hands every 30 minutes, sanitize each station every 30 minutes, and change gloves constantly. They have also cut down on seating, making sure usable and sanitized tables are 6 feet apart.
These restaurant changes are minor compared to other jobs having to adapt to these new circumstances.
"My job has changed completely due to the COVID pandemic, in previous years I always worked [as] a lifeguard but this year I have been spending most of the time that I am at work doing wellness checks," said Brett Anderson (through a text interview), lifeguard at Optimist Pool and senior at LRHS. "The way we run the pool has completely changed, we now operate in 2 hour time slots which means we open for 1 hour and 15 minutes then close for 45 minutes to clean, then repeat."
Every one of these jobs has something in common: each employee has to take their temperatures before going into work every day and has to wear a face covering for the safety of themselves and others. Sometimes they have to answer questions about where they have been or who they have been in contact with to ensure there has been no exposure to COVID-19.
Not only have the employees of each business had to adapt to these changing times, but so do the customers and their procedures regarding safety during the COVID-19 pandemic. "[customers of the pool] are also not allowed to use the lockers in our locker rooms, and we have the pool set up so that there is one entrance and one exit," said Anderson. He says most have adapted to the new screening procedures, including asking questions about who they have been exposed to or where they have traveled.
Customers in the restaurant business have to stay 6 feet away from other parties, and are required to wear face masks walking in, talking to a hostess or cashier, and walking out again after the meal. They can take their face masks off to eat and converse at the table.
Although a lot of students have taken opportunities during this time to get a job, do they feel more at risk to COVID-19? Ayanna Ricks, student at LRHS, feels like she is more at risk working at the Panera on Glenwood. "I do feel more at risk because some people don't feel like wearing a mask is important and do not social distance. I also do not know their background so if they have COVID and don't know then I could get it from them without knowing," said Ricks through a text interview.
Being a lifeguard has impacted Anderson's probability of getting COVID-19. "I do feel like I am at a very slight risk of getting COVID because of what I do as I have to take the temperatures of dozens of people every time I go to work, which means I have to get decently close to the people," said Anderson.
Optimist and the City of Raleigh have made an effort to reduce the risk of these day-to-day tasks of lifeguards and employees. They have guidelines for making the facility as clean as possible. Anderson states that he did get sick at one point and was not allowed to go back to work until he was able to show a negative COVID-19 test.
However, Dunham and Caraballo both feel completely safe in their work environments and are not concerned about the extra risk that comes with working around other people in a closer vicinity. They both say their restaurants have done a good job with cleaning and following protocol and do not let the possible risk of COVID-19 deter them.
COVID-19 impacted work schedules as well, with businesses shortening their hours and having to lay off people. "COVID impacted my schedule at first like right when everything was shut down. I didn't work for a while and wasn't making money so that was hard for me to save money and not spend it easily when I didn't have a job," said Dunham.
"COVID hasn't really changed my personal work schedule much but when the stores were closing early I know people weren't getting as many hours," said Ricks about the reduction of hours at Panera at the beginning of the pandemic.
However, with school starting online due to the pandemic, students also have an opportunity to work more shifts with their extra time. "I haven't worked before the pandemic but I imagine I would be working a lot less, even as school is starting I still don't feel stressed about how I'm spending my time," said Caraballo.
Work has definitely been impacted by the COVID-19 pandemic this year. Some of the results are positive such as a more thorough cleaning of everything and (for some students) more hours working. Some of the effects are more troublesome, such as an increase in risk of catching COVID-19 and the sometimes tedious check-in policies or tasks employees face daily. However, the pandemic has not stopped students from working, as they trudge diligently on through the wake of the virus.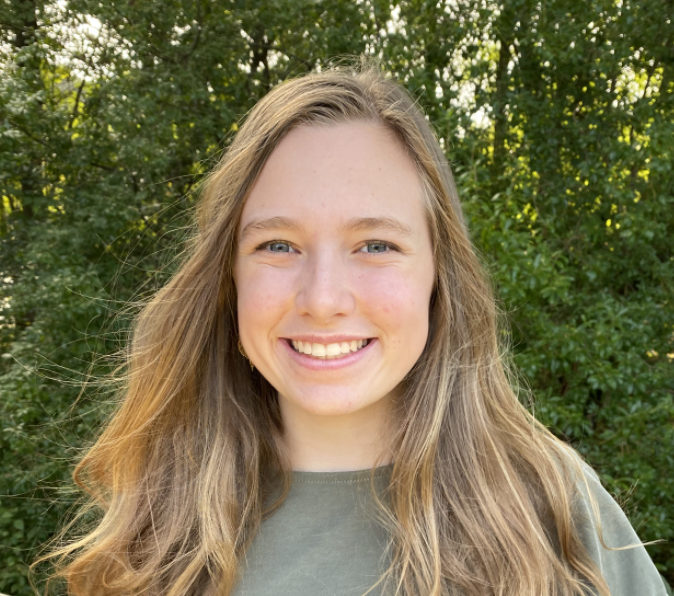 Hi! My name is Abigail and I am a senior editor for The Mycenaean. I am also a member of Leesville's cross country team and track team, as well as the president of National Technical Honor Society.