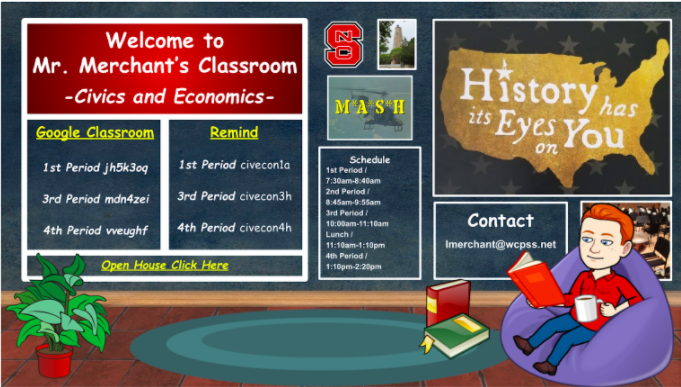 Leesville Road High School is proud to announce a new teacher, Logan Merchant, joining the social studies department this year.
An NC State graduate, Merchant is fresh and excited to start up the school year teaching three civics classes to LRHS seniors. Merchant was a student teacher last year at LRHS, helping out with Holocaust and Genocide classes and American History classes. Although this year is starting off differently than he expected, he is still looking forward to his first year teaching. "It is not the most ideal circumstance, but I am excited nonetheless," said Merchant in an email interview.
Even through the new online classes and teaching, Merchant is quick at adapting to the circumstances and is always looking on the positive side. "Being a first year teacher I am already creating new lessons, so adapting them for virtual learning has not been a hassle," said Merchant.
Teaching online could prove more of a challenge than in-person instruction, but Merchant has a plan on how to teach lessons effectively to his students. "I will be using interactive lectures to deliver content for the students," said Merchant.
Also, there is often difficulty for the teachers concerning students cheating on quizzes, tests, and assignments since there is no way to monitor them online. Mr. Merchant has a plan for this as well. "I will use project based assessments where students synthesize information and come to their own conclusions." He is a firm believer that no one has the same opinion, so opinion-based assessments are a good way to determine cheating among students.
Mr. Merchant grew up learning all sorts of history, and he has always loved teaching people about it. "Growing up, I worked at Old Baldy Lighthouse as a museum volunteer. I would spend hours talking to the visitors about the island's history and the significance of the lighthouse," said Merchant. He says he always loves conversing with people about history and making it relevant to the current times.
Merchant says his passion for history and his path towards teaching started in high school, "I had some great teachers that pushed me towards education, saying I had a knack for 'storytelling'.".
Throughout his time at NC State, he says he took a lot of interesting classes to prepare him for his career as a history teacher. These were some of his favorites:
"Sophomore Seminar: We focussed primarily on how to write like historians. This made me a much better writer.
Cold War Intelligence: This was taught by one of my favorite professors. I loved how he taught and how captivating he was. I try to mimic him as much as I can when teaching.
Environmental History: This class taught me how to think with an interdisciplinary mindset. We explored how nature impacts the historical record. I strive to make these connections when teaching because it often can get overlooked.
Contemporary Approach to Teaching Social Studies: This class taught me how to discuss modern-day controversial issues in the classroom. I also learned one of my favorite methods of teaching, the Structured Academic Controversy, from this class (which I am trying to adapt to online learning)," said Merchant.
Merchant is excited to be joining the History department at LRHS this year with the other amazing Leesville teachers. Although it is different this year concerning communication between teachers, students, and administrators, the Leesville community is determined to provide a positive experience for everyone, including the staff members by providing resources and tools to keep everyone updated and current.
Merchant is looking forward to being a part of the amazing Leesville family this year and "seeing" the students again. Although classes are starting off online, and most students do not show their faces, the way Merchant interacts with them all makes it feel like the closeness of a classroom environment. At the beginning of each class, he has a historical notebook question and either calls on people or asks for volunteers to answer the question, and engages with students throughout the entire class period, making them laugh and enjoy it.
He hopes he can help each and every student, especially in this uncertain time. He is very understanding of the busy schedules high schoolers often have and takes into consideration outside factors like work and family when assigning things, also reminding his students he is willing to help with anything they need.
Mr. Merchant is a great addition to the LRHS staff, and he is excited to teach the students this year and hopefully make them love history as much as he does.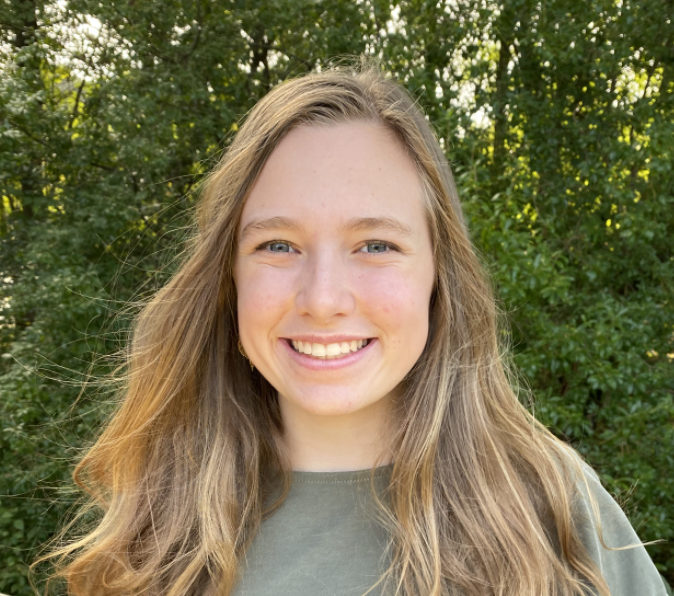 Hi! My name is Abigail and I am a senior editor for The Mycenaean. I am also a member of Leesville's cross country team and track team, as well as the president of National Technical Honor Society.