Many clubs are trying to reopen, however it is proving difficult to stay safe with Corona. NC Volleyball Academy is a club that recently had a positive COVID-19 case that has increased the struggle of preventing the spread of the virus. (Photo courtesy of Amelia Collado)
With last season striking a record high in participation, the 2020-21 season was on track to be the biggest one yet. A positive COVID-19 case at NC Volleyball Academy– a popular volleyball club in the RTP area– has furthered the uncertainty about this upcoming season. 
Academy recently opened up following phase two guidelines. Throughout the early phases of quarantine, the USA Volleyball Association had high hopes to play the regular season dates (November- July) but the delay of all NCHSAA spring sports has caused conflicts in scheduling. 
Clubs decided to move their season to start sooner. This has spiked an interest in camps and programs to help many players preparing for tryouts.
NC Volleyball Academy is taking precautions in hopes to prevent the spread of COVID-19. These include: 
-"No parents, siblings, spectators or any additional individuals will be allowed in the building
-Coaches and athletes will be required to wash their hands correctly and thoroughly 
-Coaches and athletes will be encouraged to perform self-check for temperature and symptoms of COVID-19
-Stay home if there are some suspected signs.", as well as follow, "Facility Layout via Zones for Social Distancing", wrote NC Volleyball Academy in their safety protocol statement.
August 21 parents of participants received an email saying a player had tested positive for COVID-19. The email states, the club said, "[They] couldn't legally provide any information" other than when the player had last been in the gym. The email also assured parents that the club is following CDC guidelines and will continue to check temperatures and symptoms of players. The club shut down for that weekend for deep cleaning.
Academy did make sure to take extra precautions with players who were directly exposed to the positive case. 
Laney Choboy, a sophomore at Leesville, was on the same court as the positive player for Monday and Wednesday of that week. "Academy made us quarantine for 14 days but it was my decision to get tested," Choboy said over text. 
Choboy also said, "[She does} not feel more worried about going to volleyball and is trusting that people are being smart and I am taking precautions like keeping as much distance as possible". 
This program has opened back up to practice, but Raegan Howey, a sophomore, said, "It's just a matter of time before they will have to close again". 
Clubs are trying their best to keep players, staff, and parents safe but even with precautions taken some things are inevitable .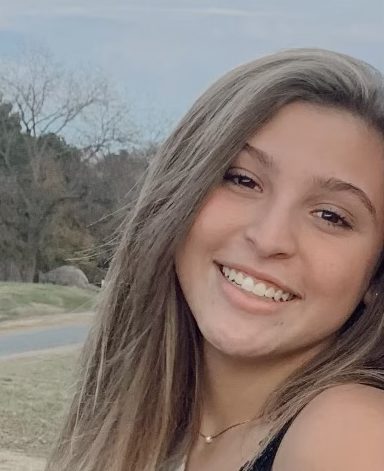 Hi! My name is Amelia and I am a staff writer for The Mycenaean. I also play club volleyball and enjoy spending my free time with friends and family.