Owens' Where the Crawdads Sing is a national bestseller, highly recommended, and a masterpiece. (Photo Courtesy of Ellie Thompson)
In August of 2018, Delila Owens released her first fiction book, Where the Crawdads Sing, and ever since, it has swept the nation. It currently sits at sixty-eight non-consecutive weeks on the New York Times Bestseller list and is a finalist for the Southern Book Prize Award, as well as a book chosen for Reece Witherspoon's Book Club.
A book with this much hype has to have some credibility.
I was personally drawn to Where the Crawdads Sing because I had heard so many great reviews of it, but could it really be that good? Could it live up to the critics and reviews? I had to read it to find out.
The premise of the book surrounds Kya Clark — it starts with the story of her growing up, flashing forward to this murder mystery and trial until the two time periods overlap.
The prologue opens with the gripping scene of the dead body of Chase Andrews lying in the marshes of North Carolina. Then that storyline seems to end for a moment and flashes to Kya, a young girl living on the marsh with her family. Written to include Southern Gothic storylines, her father is an abusive addict, and the opening scene is haunting — Kya watches her mother walk out of her life because of her father. From there each of her siblings leave, even her closest brother, Jodie. Her father is absent often, so this young girl ends up raising herself, mentored in part by the kind Jumpin' and Mabel, a kind African American couple. She teaches herself everything about the marsh and its creatures. She is independent, attuned to nature, and capable of being alone, but she is still lonely. 
Kya eventually meets two boys — Tate and Chase — from the neighboring town and struggles to sort out her feelings for each of them. It was gripping and emotionally packed; the relationships each develop so carefully and completely making it feel like it happened next door. I couldn't put it down.
Owens expertly combines mystery with romance, murder with relationships. Kya's tender friendship with Tate rivals her passion for Chase. It pulls your heartstrings in a hundred different directions. And the ending — well, I won't spoil it, but it is affectionate and touching. The very end will blow your mind, too.
When I first heard about Where the Crawdads Sing, it didn't dawn on me that it took place here in North Carolina, like in marsh areas close to beaches. The town Owens talks about is a bus ride away from Greenville, NC. This close to home setting made the book come alive a little more in my mind.
Another thing to add, throughout the book, Kya speaks in the language of the marsh. If that's confusing, here's an example: even in court, she refers to the judge as the "alpha-male." The marsh is in her blood, and as Owens is an amazing nature conservationist, it comes out often in her writing. 
One offsetting element is the switch between two time periods. In the earlier years of Kya's life, the story lines are separate and distinct, but as they begin to cross over, overlapping details, it becomes hard to follow. This same element is expertly crafted most of the time – each detail has to line up perfectly as the pieces are laid out for the murder case. It is masterfully written.
The New York Times calls it "a painfully beautiful first novel that is at once a murder mystery, a coming-of-age narrative and a celebration of nature."  The language is beautifully descriptive, creating lasting imagery in the reader's mind.
Fox has claimed the film rights for Where the Crawdads Sing, so be on the lookout for a blockbuster movie in the future. Owens created her own tagline for the movie: "A nature-immersed mystery and love story with an ending that you'll never guess, and never, ever forget." 
Read the book first, though. The mystery and love, and the setting here in North Carolina combine to form a story you don't want to miss.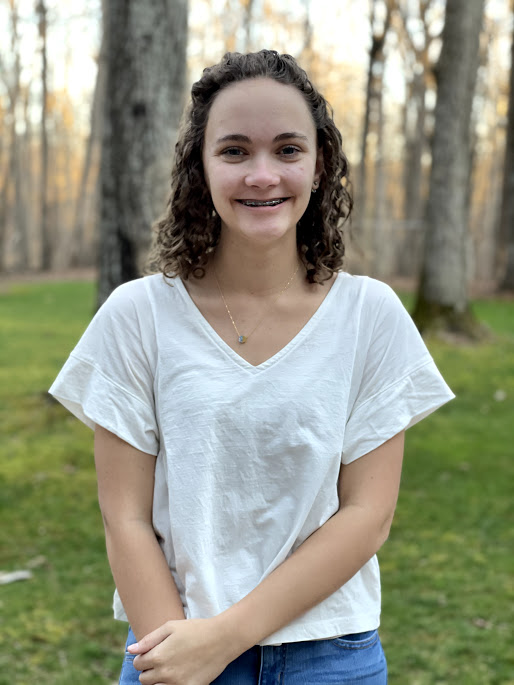 Hi! My name is Ellie and I am the editor in chief for The Mycenaean. I play soccer at NCFC and go to The Summit Church!