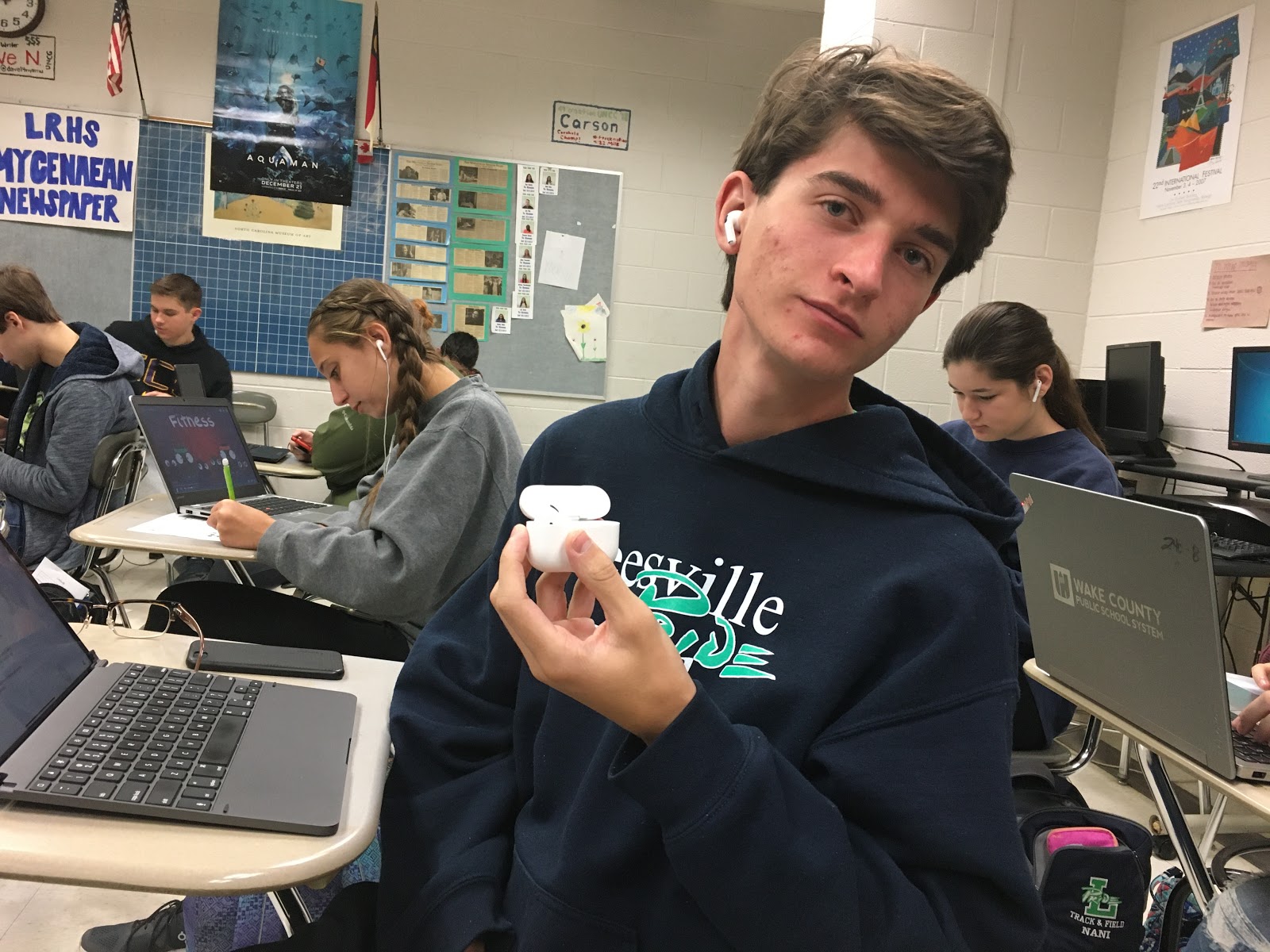 Airpods Pro took retail stores by storm reaching $6.5 billion in revenue within the first two weeks of its release. With a redesigned case and earbuds, the Airpods Pro is without a doubt an upgrade compared to the original. The new generation of Airpods became available to the public on October 28 and started arriving at customer's doors on October 30. 
Starting at $250, the Airpods Pro is a more sleek and improved version of the previous original Airpods.
John Thornton, Leesville Road High School student, pre-ordered the Airpods Pro and received them two days later. Thornton says the Airpods Pro is a well designed and functional product. Giving off clear audio and providing a comfortable fit to the ear, Thornton has a positive opinion of the product. Although Thornton did not own the original Airpods, he claims the Airpods Pro is superior in audio and design quality. "I did not own the original Airpods, but I know the newly released version are a lot better just because of the quality and discretion of the product. The wireless charging and size factors are what make the product high quality," says Thornton. The only issue Thornton encountered with the Airpods Pro was the expensive retail price of $250.
The original design of the Airpods is smaller and straightforward compared to the Airpods Pro. With a similar design and function, both Airpods and Airpods Pro serve the same purpose: to deliver clear sound quality and a comfortable fit. The debate over whether the original or newly released Airpods occurs depending on one's interest and thoughts toward the product. Some people prefer the original design for its looks and simplicity while others may prefer an updated and more advanced version. Josh Cash, Leesville Road High School student, does not have the Airpods Pro but owns the original pair. He claims he prefers the original design over the upgraded version due to its comfortable fit and style. "In my opinion, I like the original design better because of the great sound quality and the snug fit it has when I put them in," says Cash. Many opinions surface about which generation of Airpods is superior, Cash leans toward the left when preferring the original pair, as to Thornton prefers the enhanced Airpods Pro.
Both models of Air-pods are similar in function and purpose, although design, quality, and the price can vary between the two. The original Airpods have been available to the public for almost three years after its release in 2016. Since the original release date, Apple customers are eager to get their hands on the new product and test the Airpod Pro's abilities and competence. With a more comfortable fit to the ear and redesigned case, the Airpod Pros continue to be a hit in retail stores and on the technology market.