Kyla McGhee at UNC's campus after her journalism camp. (Photo used by permission of Kyla McGhee)
If there is a strong role model for student athletes, it would be Kyla McGhee. She's adored by teachers and coaches in and out of school. With a 4.0 GPA, college's interested in her basketball career, and looking at her past success, her future is looking very promising.
McGhee, a sophomore, began her athletics at a young age with dance like ballet, tap, and jazz. Growing up with basketball in her blood sparked her interest in the sport. McGhee went to her first basketball game at just two weeks old and continued to watch her cousins play in college. Her father was a former sports announcer for UNC's women's basketball team. She first played in her local YMCA's boys' league in kindergarten. "They wouldn't pass me the ball!" she said. She would use rebounds as a chance to play since the boys wouldn't include her.
As she grew older, she experimented with other sports like swimming, tennis and gymnastics although she stuck with basketball. She began playing travel basketball in fourth grade and never looked back. McGhee quickly rose to a top player in the middle school season and AAU. 
In seventh grade, she picked up volleyball, and softball in eighth, playing for Leesville Road Middle School. By the end of middle school, she had won the female athlete of the year award, Co-MVP for basketball, the hustler award for volleyball, and the team player award for softball.
High school sports were just as active as middle school. She began freshman year on the volleyball team, later became a freshmen on the varsity basketball team, and joined the softball team as a manager. She's made the JV volleyball team sophomore year, this time as a captain. She spends her summer traveling across the country to different cities and playing basketball. One summer, her team got a free trip to the Nike headquarters in Oregon from their teams' sponsor 9th Wonder, a music producer. 
Her teammates have become some of her closest friends as they celebrate their victories and losses throughout the season. "She is one of the funniest people I know and one of the most caring. She's a beast on the court.." says Bobbi Smith, one of McGhee's teammates. Smith and McGhee are close friends during travel season, but rivals during school season. Smith plays for Southeast Raleigh High School.
While McGhee's athleticism is incredible, her academics are not to be forgotten. McGhee finished freshman year with all A's and a 4.0 GPA. She often has after school practice along with basketball workouts and admits it can be difficult to balance the two along with homework. "I procrastinate a lot," she said. Her sleep schedule during the week is around 12-6 am. "Yeah, I need to work on time management." she said laughing.
Ms. Glover, a Biology teacher at Leesville, had McGhee as a student when she was a freshman. "She is a joy," Glover said. "…She puts a tremendous amount of effort in her school work too, which is reflected in her grades. She is also very kind, funny, and positive."
With her academics, there comes clubs and extracurriculars. She's a part of the Social Justice Club and Student Council at Leesville. Getting a head start in her future career, McGhee has takes a journalism camp at UNC. At the camp, she's improved her filming and editing skills. She's often the youngest out of the normally upperclassmen group. By the end of the camp, the final product is a documentary about a topic on UNC's campus. 
Maria Taylor, an ESPN reporter who covers several college sports, inspires McGhee. Taylor played basketball and volleyball for Georgia Tech and majored in communications. McGhee hopes to attend UNC and major in the same field as Taylor. She wants to be behind the camera and editing. McGhee's open to mostly any topic, "Sports comes easy to me when talking about it, but when I get older it might change." In the long run, her dream is to produce and edit films, maybe win a few awards–and of course, get good sleep.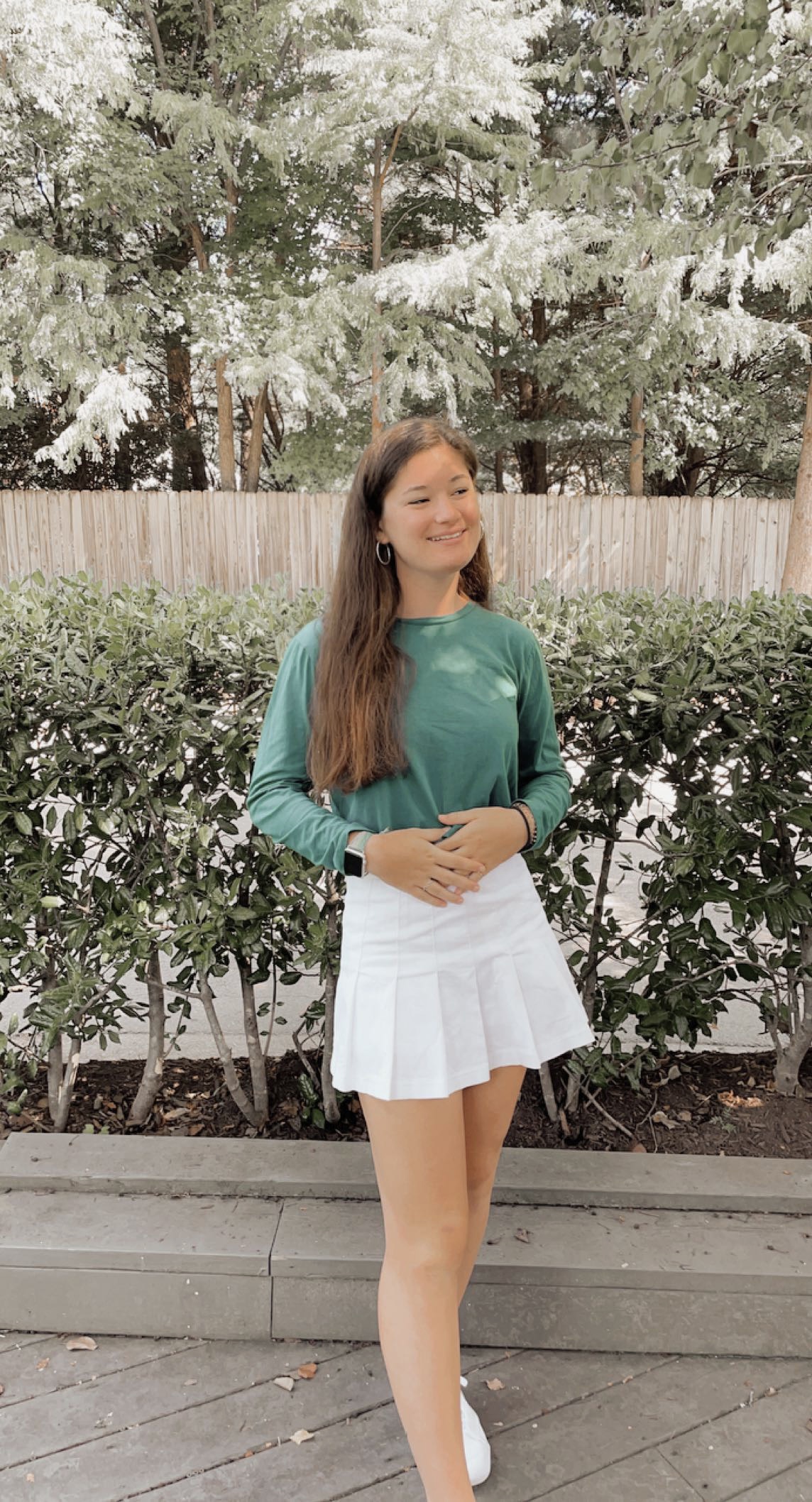 Hi! My name is Emma and I am a staff writer for The Mycenaean. I am part of the LRHS Chamber Orchestra and I am also scuba certified!