2019 so far has been an excellent year for music, with releases from Ariana Grande, Taylor Swift, and Tyler the Creator, and pending arrivals from artists like Kanye West, Danny Brown, and Run the Jewels. There have been so many amazing albums released so far this year, but I managed to pick my top five. This list is broken down into four categories: Production, Vocals/Delivery, Lyrics, and Enjoyment. 
Guns by Quelle Chris (Rap/Hip Hop)
Production – Guns beats and samples vary widely throughout the entirety of the album. On songs like "Guns," there are more relaxed beats, while on songs like "Mind Ya Business," just two tracks later, the production is a lot darker. I thoroughly enjoy all of the production on the album, and even though there is a lot of variety in style of production Quelle flows off all the beats pretty well.
Vocals/Delivery – Quelle Chris' delivery is unique compared to other rappers today. Quelle flows rather slowly and often uses the pitch of his voice to draw the listener's attention to specific lyrics. Quelle's deep voice sets the melancholy tone of some of the songs well. His deep voice blends well with the menacing beats, and for the more upbeat songs, he changes his vocals frequently throughout the song, bouncing on different pitches and uses feature verses to give the songs even more variety.
Lyrics – The primary focus of this album is guns, as stated in the title, and how America is using them. In the song "Guns," Quelle raps about shootings in America, and how easy it is to shoot someone with the current accessibility of guns and how everyone seems to have them. Quelle also dives into racism and black oppression in America.
Enjoyment – I enjoy the variety of beats and samples on this album and Quelle's constantly changing voice. I also enjoy hearing Quelle stand up for his people, and preach about black oppression and other problems in America. However, the only downside to this album is sometimes the production can be a little weak on tracks like "Wild Minks," and sometimes Quelle's changing vocals get a bit too funky and do not sound good at all. My favorite track off the album is definitely "Obamacare," the production is fantastic, and the song slaps more than any other song on the album. Another one of my favorite songs is "Box of Wheaties" because the relaxed nature of the song is soothing, and the production is incredible. However, my least favorite song is "Wild Minks" due to its beats, the sample of someone saying, "the most beautiful man I have ever seen," gets annoying, and the other parts of the beat do not blend well with Quelle's voice.
Titanic Rising by Weyes Blood (Alternative/Indie)
Production – Weyes Blood uses a lot of slower wavy production that relaxes the listener. Weyes samples guitar-based instrumentals in most of the songs, and it creates an almost nostalgic feel. Another big part of the album's production is the use of the piano and drums. The instruments bring in a nostalgic feeling that is unmatched by other beats nowadays. On songs like "Something to Believe," Weyes Blood samples all three of these instruments, and it sounds incredible. 
Vocals/Delivery – The vocals are what brings this album together for me. The slow-moving, almost mesmerizing vocals Weyes uses throughout the album bring a very relaxed feel. However, on tracks like "Mirror Forever," Weyes starts with a melancholy tone. My favorite vocals from the album are probably from "Something to Believe" when Weyes Blood sings, "I just laid down and cried, the waters don't go by me," the notes she hit connected with me and sounds outstanding.
Lyrics – Titanic Rising is not the most lyrical album ever, but Weyes explores some of her lyrical abilities throughout the album. Weyes delves deeper into love and the cruelties of life. On the song "Mirror Forever" Weyes sings, "No one's ever gonna give you a trophy for all the pain and things you've been through," signifying that going through trauma in life does not make life better in any way. 
Enjoyment – I love this album for its nostalgic feeling it gives me and the slow, beautiful vocals Weyes Bloods provides. The tactical usage of guitars, pianos, and drums brings amazing production along with it. Weyes Blood uses her relaxing, beautiful vocals to bring the album together with songs about the intense emotions love entails. The only real downside to this album for me is after a few listens, the songs get kind of stale, so you have to listen very selectively to keep a love for the album. My favorite song is definitely "Something to Believe," the chorus is outstanding and is backed by some fantastic production. My least favorite song is probably "Picture Me Better," because the production is not as full as the other songs, but the album is so consistent the bad songs are still impressive.
Bandana by Freddie Gibbs and Madlib (Rap/Hip Hop)
Production – Madlib is a legendary producer who has produced iconic albums like Madvilliany. His amazing talents as a producer are unrivaled by any other today. Throughout the album, he gives Freddie Gibbs a large variety of beats to rap over. Most of those beats are darker and more intense than other rapper's beats to fit with Freddie Gibbs more serious voice. The production is outstanding throughout, and no person could have done a better job than Madlib.
Vocals/Delivery – Freddie Gibbs is one of the legends of the rap game with albums like Piñata under his belt. Freddie Gibbs is known for his smooth but intense flows that I cannot get enough of. He brings that right back to Bandana with unrelenting bars that you cannot help but love. His delivery fits perfectly with the production Madlib creates, and Freddie Gibbs uses his years of rap experience to make amazing songs with tons of replay value.
Lyrics – Throughout the album, Freddie Gibbs often brings up subjects that he is passionate about. In the song "Crime Pays," he discusses how even though drug dealers make money and get materialistic things like chains they like to brag about deep down, they still feel like slaves to the "system." "Palmolive" is a song where Freddie Gibbs raps about his disapproval of the Trump presidency, and how he misses having Obama as president.
Enjoyment – Bandana is a fantastic album that is full of excellent production, and fantastic flows provided by Freddie Gibbs and Madlib, respectively. The whole album front to back is impressive, with minimal weak points. My favorite song is definitely "Crime Pays," the excellent production and catchy vocals bring an awesome song that is playable at any time. Freddie Gibbs raps well on "Crime Pays," and I love the seemingly endless amount of bars he creates on the song. My least favorite song is probably "Gat Damn," in which Freddie Gibbs tries a higher pitch of his voice and flows a little different than on other songs, which I did not particularly like.
Beware of the Dogs by Stella Donelly (Alternative/Indie)
Production – The majority of the album involves guitar-based production that is very soothing. In "Mosquito," the gentle guitar plucks bring a relaxed feeling to the album. The production does not bring a lot of variety, nor does it blow away the listener. However, the production's simplicity is what makes it enjoyable.
Vocals/Delivery – Stella Donelly has one of the best voices I have ever heard. She can hit high notes well and demonstrates her talents quite often throughout the album. Her slight Australian accent enhances her voice and makes it sound even better. 
Lyrics – Throughout the album, Stella Donelly dives into strong emotions of love, acts of love, and in some songs, rape. Her friend was raped before the album's release, and blame for the rape was pushed onto her friend. The situation inspired Stella Donelly to write the song "Boys Will Be Boys." Stella Donelly sings about how her friend blamed herself for the rape, and so did society. The actual rapist received protection from the community, according to Stella Donelly, and instead, her friend was blamed for the rape because of her suggestive clothes. In "Mosquito," Stella Donelly sings about love, describing herself as a "malaria mosquito buzzing in the shadows," waiting for her lover to come home from work. 
Enjoyment – Stella Donelly combines her fantastic singing talents with some incredible guitar strums to produce this amazing album. Her vocals are the highlight of the album for me, although some people may not find them appealing. My favorite songs are definitely "Mosquito," "Boys Will Be Boys," and "Allergies." The chorus on these songs is what makes them my favorite songs. However, my least favorite song is probably "Bistro," the production switches to a more technology-based style that does not blend well with Stella Donelly's voice. 
All My Heroes are Cornballs by JPEGMAFIA (AKA Peggy) (Rap/Hip Hop):
Production – Peggy is one of the best producers in the rap game right now. His wild production allows him to take advantage of his edgy, unique style of music. Similar to his previous album "Veteran," Peggy uses some bassy, loud production that he performs well on. The production throughout the whole album is terrific, especially on songs like "Grimey Waifu," "Rap Grow Old & Die x No Child Left Behind," and "All My Heroes are Cornballs."
Vocals/Delivery – On this album, Peggy explores his singing ability and uses autotune to improve his already great voice. He sings quite frequently on this album, and at first, it sounds a little weird, but once you get used to it, you realize how amazing it is. Even though Peggy sings well on this album, that is just a side dish to the fantastic bars Peggy cooks up. Peggy's endless flows and ever-changing voice can go from screaming his head off to a more melancholic flow within seconds. Peggy's delivery and voice throughout the whole album is impressive, especially in songs like "Kenan Vs. Kel," "Grimy Waifu," and "PTSD."
Lyrics – Peggy's lyrics are often meaningless as he raps about completely random things. Some of these things will make you laugh like at the end of "All My Heroes are Cornballs" Peggy throws in a random clip of his friend ordering Wendy's, or at the end of "BBW" when a girl is talking about what her dad used to say when she was younger. A random dude says out of nowhere, "That's what my dad would say if I had a Daddy." Other things Peggy raps about are usually pretty edgy and meaningless, but they sound good.
Enjoyment – Peggy is a unique artist, and that's what brings in listeners. His unique style of production and mix of singing, screaming, and rapping is entertaining and fun to listen to. Every part of this album is awesome without any real weak points other than lyrical depth, in my opinion. My favorite songs include "Jesus Forgive Me, I Am A Thot," "Grimey Waifu," and "Rap Grow Old & Die x No Child Left Behind." I genuinely enjoy all the songs on this album. I love this album a lot, and that is why it is my album of the year.
There were so many amazing albums released so far this year, but this is my top five list so far. Stay tuned for the next installment, and all the other amazing albums to be released later this year like Jesus is King by Kanye West.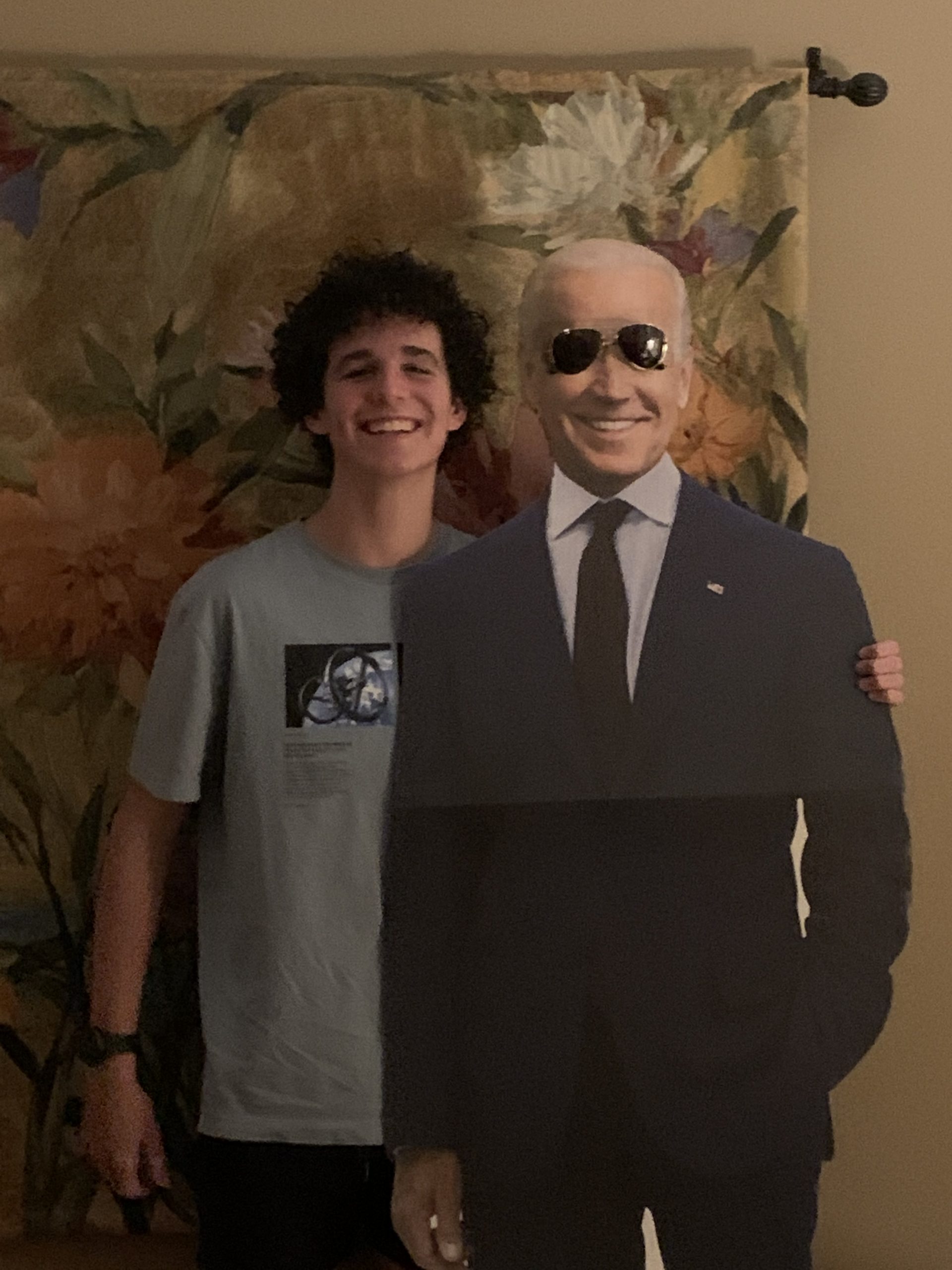 Hi! My name is Francis and I am a senior editor for The Mycenaean. I run, I am good at Mario Kart Wii, and I'm a good cook.