Dalia Hasan (third from the right) stands with her team after the 2018 State Championship race. She hopes to compete in the 2019 State championship this coming year to keep her States streak going. (Photo courtesy of Abigail Mabe)
Dalia Hasan is the only senior on Leesville's women's cross country team. She has been running varsity for the team for four consecutive years now, starting her freshman year. Hasan has been connected to Leesville's cross country team for longer than that, as her sisters who now attend NC State University also ran for the team. "Their time running for Leesville influenced me because I saw how passionate they were about [cross country] and I realized it was something I wanted to take part in as well."
Noor Hasan, a 2017 graduate of Leesville Road High School, and Dalia Hasan's older sister, held a 5k PR of 19:02 on the cross country team in 2015, inspiring Dalia to push hard to try and spark some sibling rivalry. Dalia's 5k PR is currently 19:18, the fastest time on the Leesville cross country team, and is currently within the top 100 runners in the state based off of 2019 High School rankings. 
Hasan has not always run, starting her passion of running her eighth grade year at Leesville Road Middle School. Beforehand, she played soccer like her two older sisters, reinforcing their influence on Dalia's life. Hasan is very dedicated to reaching her personal goals and is team-oriented. She is one of the 2019 Leesville cross country captains, inspiring her team with advice on stretching and running. "My favorite part of XC are the people. I love my teammates and always enjoy time spent with them." 
Although Hasan is a prominent figure to the new and returning runners, she finds it difficult to train as the only senior. "Being the only senior girl this year has been extremely tough. I haven't had someone to push me and train with." Throughout this adversity, Hasan still drives through with avid determination and willpower, with only four weeks left until Regionals and five until States. 
At the beginning of the season, each athlete fills out an index card with goals on it for the rest of the season. Hasan's included to break 19 minutes in the 5k and help bring her team to states. The qualification for the States race depends on the Regionals race, as the Regionals race qualifies either the top seven individuals for states or the top four teams that finish in that race for States. To do this, Hasan needs to race her usual sub-20 5k time to qualify individually and will count on the rest of her team to try to follow in her lead to qualify the team. 
So far, Hasan has competed in all three previous State Championships, finishing with stellar times and running as part of the top seven athletes since freshman year. Hasan got her current PR of 19:18 on the WakeMed Soccer Park course in Cary during the Great American race where teams from all over the nation come to race. Hasan has participated in several large meets like this one, and is able to compete with athletes from across the nation. Although North Carolina is one of the most competitive cross country states, which is why other state teams come here to race.
Hasan has been looking forward to her senior season of cross country, hoping to show off her running to colleges and recruiters. "I would most definitely love to run in college," said Hasan. She has luckily stayed injury free throughout her four seasons of cross country, not having to worry about blocks to her season success. 
Hasan always has an uplifting spirit, even through the tough workouts and through summer training to reach her goals. "I enjoy how during XC, you have all summer to train and really get ready for the season." Hasan works hard on any day of the week out at the track, completing anything from long runs to mile repeats to 400 meter (one-lap) workouts. If you ever need any inspiration to keep going and never give up, Dalia Hasan is a good example to look up to.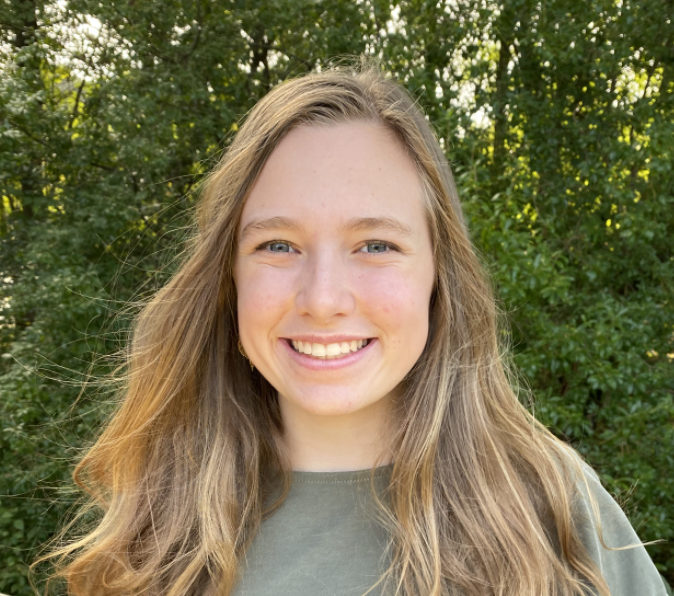 Hi! My name is Abigail and I am a senior editor for The Mycenaean. I am also a member of Leesville's cross country team and track team, as well as the president of National Technical Honor Society.