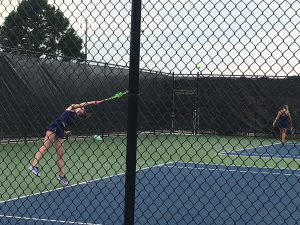 The Leesville Road women's varsity tennis team won their match with the recently built Green Level high school at home on Wednesday, September 4. Leesville won every set, with the result being 9-0. 
The players were all satisfied with their win. Camden Clark, senior and number 2 player on the team, said that the team felt better than their match against Enloe earlier in the week: "We felt really good because we had a tough loss on Tuesday against Enloe, so this win really boosted our spirits," said Clark.
All players on the court put their best play on display in the non-conference matchup with the Gators. Clark believed they could have upped the level of her play even after a solid performance. 
A sweep in matches is nothing to brush off, however. The team played excellent in the hot weather. 
Helen Alvis, senior and number 1 player on the team, won her match in three sets and played extremely well after she lost the first set. A fire was lit underneath Alvis, and she proceeded to scratch and claw back to win the final two sets and cap off the 9-0 win for the Pride. 
Clark has faith in the team for the future when playoff season comes around but knows there is still work needed to be done: "We have a really strong team with great potential but we've had two tough losses [so far in the season] against Enloe and Broughton. I think we should be able to overcome those and beat them the next time we face them," said Clark.
The Pride's record improves to 4-2 overall after the match, and remains 2-2 in conference play. The Pride's next match against Garner Magnet has been postponed due to the cancellation of schools in Wake County.