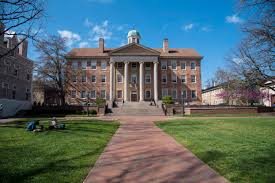 Spring break for the 2019-2020 school year is fast here. While some students will travel far and wide to celebrate their week-long break, others will stay in Raleigh and explore everything the city of oaks has to offer. If you find yourself binging on the latest season of The Bachelor or another season of the newest Netflix series, here are some things you can do to strengthen your college applications.
The first — and the most obvious tip — is to volunteer in your community. There are many places in the Leesville area that just need a helping hand. One of these places is the Food Bank of Central and Eastern North Carolina which is located on Capital Boulevard. The Food Bank often holds special fundraising events and has a Internet schedule where volunteers can sign up. Other places include the SPCA of Wake County, Shepherd's Table Soup Kitchen and the American Red Cross — all of which are conveniently located in Raleigh, North Carolina.
Another activity students can do over spring break is to create their own project that include their talents or interests. An example of this so called 'project' would be to form a band with musically-inclined friends or if you have a knack for computers — teach yourself how to code and create an video game. If you are artistically driven, submit a piece of art in a local competition or hand in a creative story to journals that publish high school students.
In order to gain knowledge on the college experience, sophomores and juniors in high school tour colleges that peak their interest. This is especially beneficial during spring break where students have time to travel around the nation to gain information on colleges that pique their interest. Most universities offer student-led tours on their websites with a schedule so be sure to sign up before you go. Tours allow prospective students to gain an understanding of the atmosphere of a college and the pros and cons which is immensely beneficial when deciding where you want to continue your education.
A requirement for college applications is standardized testing. Whether that may be the SAT or the ACT for you, prepping for the test is inevitable. If you have not already started studying for the test you plan on taking, spring break may be your last opportunity before the SAT on May 4th or the ACT on June 8th. There are numerous practice books available at stores like Barnes and Noble as well as programs you can register for online. Students often choose to go to tutoring for their respective tests as well.
College admission officers look at your application as a whole, and while it may not be as obvious as other factors such as a high test score and good grades, a job expresses your initiative and responsibility as a high school student. Local fast food restaurants — such as Taco Bell, McDonald's and Dairy Queen — hire teenageers at the age of 15. While working at a chain may be the best option for some, it may be beneficial to others to have a position with flexible hours like babysitting for the family next door.
If you have access to transportation during the school day, take a look into attending a college class during the school year. Community colleges — such as Wake Tech Community College — offer classes to high school students as does North Carolina State University. The form for both of these colleges can be found on their website. If you do choose to take a college class during your tenure as a high school student, be sure to take a class that is considered to be easier and the credit you earn will be accepted into the college of your choice.
High school is an experience everyone goes through and college applications is something that numerous students think about on the daily. There are many aspects that college admissions officers look at including test scores and overall grades. Things like getting a job, volunteering in your free time and going above and beyond allows the admissions officer reviewing your application to understand you in a way that may secure your admission into the school of your dreams.