At a young age, I became a huge fan of the Carolina Hurricanes. My family always tells me about how I was obsessed with Bates Battaglia– or how I said it at the ripe old age of three, "Bates Batwagwea." As I grew up, I became a bigger and bigger fan, attending game after game with my family, who were season ticket holders at the time.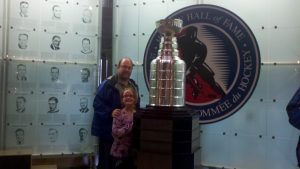 In 2006, I even attended all of their home Stanley Cup playoff games; in fact, you can my family and I holding up a giant, six foot long sign in some of the Stanley Cup Anniversary videos today.
However, a couple of years after that fateful 2006 season, my enthusiasm for the Canes waned. As I grew up, I slowly began to donate my dozens of Hurricanes T-shirts, sell my collection of Eric Staal bobbleheads, throw away my signed pucks, and tear down all of the hockey posters off of my walls.
Soon, as I sat with my mom as she faithfully watched every Canes game from home (we had given up our season ticket holder status as the Canes started to lose some of their spirit after their 2006 Stanley Cup Championship), I realized that I no longer recognized most of the players. My old time favorites seemed to have been replaced by new players, diminishing any leftover nostalgia from my previous obsession.
This past year, however, something changed. I can't exactly pinpoint what prompted it: my friend's newfound love of hockey, the return of one of my all-time favorite players, Rod Brind'Amour as coach, or maybe the draft of promising players like Andrei Svechnikov or Warren Foegele.
Whatever it was, I'm glad it happened. My rekindled love of the Canes reminded me of the fun aspects of hockey games: tailgating before games, sitting on the edge of my seat whenever a Canes player is close to scoring, even sharing high fives with random strangers after someone scores a goal.
Although many of my favorite players from my childhood have left the team, Brind'Amour's almost complete rebranding of the team brings back the perfect amount of memories from my early years as a fan. Besides, with all the new additions to the team, I'm now faced with the difficult decision of whose jersey to sport when I undoubtedly watch more games throughout the rest of the season.