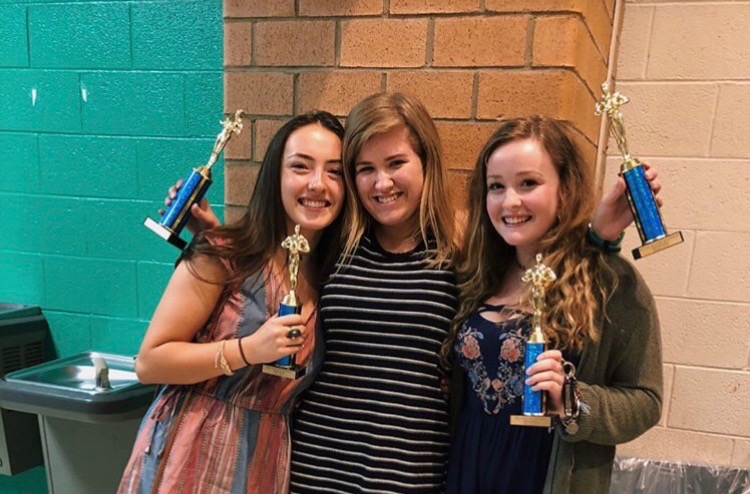 Erin Oliveira, senior, made her acting debut on Friday, May 22 in Theatre II/III's captivating performance of Bright Ideas. While Oliveira has been a part of many Leesville shows throughout her time in the theatre department, this will be her first time performing onstage as an actress.
Oliveira works primarily on tech for Leesville's plays and musicals. Oliveira was a member of Hair Crew for Vacancy in Paradise, Legally Blonde, The Odd Couple, and Little Shop of Horrors. Then, Oliveira became the Hair Crew Head and Designer beginning her junior year for the shows Peter and the Starcatcher, Bring it On!, The Red Velvet Cake War, Dearly Departed, The 25th Annual Putnam County Spelling Bee, and The Wedding Singer. As a member of Tech Crew–Leesville's honors tech class– Erin worked on costumes for Romeo and Juliet and Dr. Faustus.
On Friday, however, Oliveira will break away from her previous experience with soft tech and step into the spotlight on her 13th ever show at Leesville. In the show Bright Ideas, Oliveira will be portraying not one, but two different roles: Mrs. Heath, a wacky preschool teacher, and Mom #2, a mother who just wants the best for her child.
Although it seems drastically different to work behind the scenes as a techie compared to on stage as an actress, Oliveira has found that many of the skills that she fostered during her time as Hair Crew Head and Designer carry over easily to her acting.
"With hair, I learned a lot about the processes of shows, and taking things step by step. And with acting, I've been able to recognize the process and know what  the end result should be like since I've been able to see that through all the shows I've worked on with hair crew," said Oliveira.
Another connection between acting, designing hair, and costumes is that both actors and techies alike are able to make specific choices to make a character come to life. Without the essential elements such as costumes and hair, it would be much more difficult for a play or musical to fully come to life. "I think it's really cool to be able to express the characteristics of a certain person's character through their hair and it's a really unique way to represent the show or the time period," said Oliveira.
Throughout the semester, Oliveira also gained many new skills through working as an actress during daily rehearsals in class. "I like acting because it's really different, and it's something that I had never gotten to try. I got to put myself out there in a different way and gain new skills," said Oliveira. One new skill that Oliveira acquired was the ability to leave behind her normal personality and completely dedicate herself to her new character.
While Oliveira normally considers herself an outgoing, extroverted person, she often found it difficult to put herself out there and make choices in order to completely transform into a new character. "[The biggest struggle I faced while acting was] line memorization and having to completely commit to something in order to make something funny or look cool," said Oliveira.
While Oliveira did have the opportunity to branch out and try new things as an actress, her loyalty still remains with the soft tech family. "I'm better at soft tech and I'm more comfortable with it. I like designing; it's more work but less stress than having to be on stage."
Oliveira's favorite part of being a crew head is the autonomy that comes hand in hand with the leadership. "I like being a crew head because I have a lot more control. I don't have people telling me what to do, and I have more of a say and more of a creative input. And with acting, it's not like it's my creative input, it's other people telling me what I should do," said Oliveira. However, with soft tech, Oliveira gets to be creative both with the designing and implementation of the various elements of character design.
As both an actor and a techie, Oliveira has contributed many valuable attributes to the theatre department as a whole. She will be deeply missed next year after she graduates and attends UNC Charlotte.