The Pride varsity men's soccer team, headed by Paul Dinkenor, has added a new member to its staff during the 2017 season.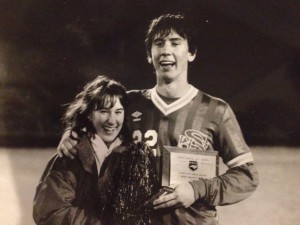 Coach Jeff Ammons, former Sanderson soccer player and TFC head coach, aided Dinkenor with his coaching duties this year.
Ammons comes to Leesville after a successful career as a TFC coach, winning multiple tournaments throughout his years.
The new Leesville coach also boasts success of his own on the soccer field. He played on the 1989 Sanderson varsity soccer team that went on to win the state championship that year.
Ammons comes to the Pride team at a point of inexperience and youth. With all-state players like Luca Menozzi and Mason Maclauchlin graduating last year as well as nine other seniors, there has been a major generational change. With only six seniors this season, Ammon's experience coaching has been vital for the team.
"He's been an absolute source of inspiration, a revelation; he's helped with the coaching, with all the duties associated with that," said Dinkenor.
Ammon's believes his transition from coaching club to high school soccer holds a positive opportunity.
"High school is special because you play with friends that you have known for a long time and spend a lot of time with.  Some of my best friends today are from my high school soccer experience. High school is also special because of the rivalries that you get to enjoy. Also, high school soccer has several ages on the same team so there is more opportunity for building character and leadership within school teams," said Ammons.
Ammons came to Leesville when the school opened up a third coaching position. The position came out of need; there were 45 student athletes in the program with only two coaches.
With a daughter who graduated from Leesville and one who is attending the high school, Ammons' Leesville connections, combined with his experience and determined attitude, made him a fantastic candidate for the vacant position.
Even though Ammons isn't also presuming a teaching role at Leesville, he feels fortunate to be at "such a great school."
"I consider myself very fortunate to join Coach Dinkenor and learn from all his experience…  When I was a student at Sanderson, Richard Murphy was my principle, and I thought so highly of him. I am glad to be at a school that honors him," said Ammons.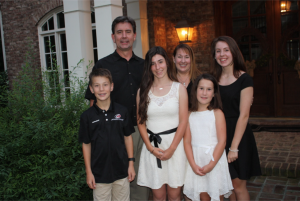 After Ammons graduated high school in 1989, he went on to attend NC State University, majoring in Civil Engineering. He then worked as an environmental engineer and founded his own building company in 1994. Ammons has built homes, developed the community and completed many commercial projects — his favorite being The Factory in Wake Forest.
During this time, Ammons married his highschool sweetheart and has had four children.
As for coming back to the high school soccer scene, Ammons believes that the game really hasn't changed. "The game is very similar, but the biggest difference was that our club teams took a break during school soccer season, so that all the best players competed for their school.  It made for great rivalries and some really good soccer," said Ammons.
From his game speeches to his always-optimistic perspective and valuable advice, Ammons has clearly made an impression on his players.
"Coach Jeff has been a mentor as far as how to hold yourself accountable. He always does the best he can for the team. He's added an extra set of eyes that can spot weaknesses and a mind that knows how to improve them," said Ryan Welton, senior varsity player.
"He puts in a lot of hard work and dedication to the team. Coach Jeff always watches the game film, even if it's late or inconvenient. He has sacrificed his own time. His energy spreads throughout the team, and he is simply just a really good coach. I hope he comes back next year," said Ben Noga, junior varsity player.
Ammons' first season with the Pride has been one for the coach to enjoy and learn from. "I enjoy the camaraderie of the group and the high expectations that accompany Leesville soccer. I have learned how to motivate high school players and what it takes to get to everyone playing their 'best game' on a nightly basis," said Ammons.
As for the following season, it is a consensus among coaching staff and players alike that they would love for Ammons to continue his coaching career at Leesville.
"I think the players like him, I like him, Coach T likes him. He's been a fabulous addition, and I hope he comes back for part two," said Dinkenor